Brie Larson Teases Upcoming Project With Tessa Thompson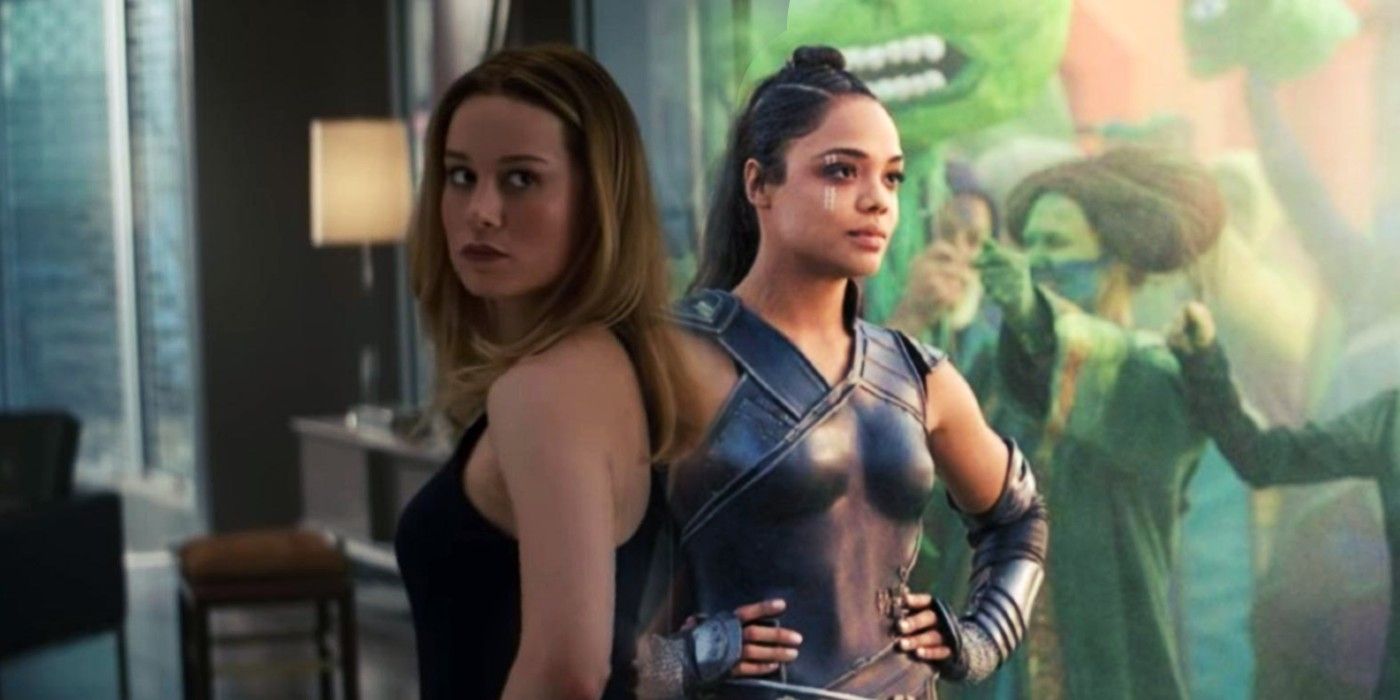 Brie Larson teases an upcoming project with fellow Marvel star Tessa Thompson and fans are buzzing. Since the Marvel Cinematic Universe launched in 2008 with the release of Iron Man, the franchise has mostly lent focus to superheroes that are white men; it wasn't until Larson's Captain Marvel in 2019 that a woman had a title role. Now in 2021, the MCU's slate of actors has admittedly diversified. The universe has expanded to include more people of color and Marvel Studios have finally zoomed in closer on women who have already been introduced yet are often overlooked, such as Scarlett Johansson's Natasha Romanoff, Elizabeth Olsen's Wanda Maximoff, and Thompson's Valkyrie. That said, the MCU still has plenty of work to do to become more inclusive – especially when it comes to LGBTQ+ representation.
That will hopefully change soon, though, seeing as Marvel Studios has confirmed that there will be an openly queer relationship in Chloé Zhao's Eternals. With that movie showing the first MCU relationship between two men, fans are rallying around a possible relationship that would be between two women: Larson's Carol Danvers and Thompson's Valkyrie, a couple which has already been nicknamed "Valcarol." Although the two characters have never conversed with one another on-screen before, fans still want to see Captain Marvel and Valkyrie get together.  In fact, Larson and Thompson are among those who would like to see this particular romance blossom.
Hopefully, it won't be too long until fans get to see Larson and Thompson together on screen. Late Monday night, fan account @valcarol tweeted a photo of Larson and Thompson from ACE Comic Con 2019 with the caption "Tessa Thompson and Brie Larson appreciation tweet because they." In response, Larson said the two actresses are "cooking something up."
We're cooking something up… 🤪 https://t.co/8agkqZWcS7

— Brie Larson (@brielarson) March 2, 2021
So what do Thompson and Larson have in store for fans? Many would like it to be a movie focused on their two characters teaming up together, but Marvel Studios has not hinted at any such project. If that is what Larson is hinting at, it likely won't come for a few years. The two could also be working on something that would be released on Larson's YouTube channel, where the young actress normally posts every few weeks. If Larson is teasing a new video, the two will likely discuss the MCU in some capacity, whether it's about the future of the franchise, scenes that were cut, or anything in between. And of course, Thompson and Larson could be working on a project outside of the MCU. Both actresses had impressive careers before being introduced as Carol and Valkyrie, so Larson could very well be hinting at a new movie separate from their superhero personas.
Whatever project Larson is teasing, it will be nice to see the two women interface once again. Larson and Thompson both come off as witty, playful, and genuine, which only amplifies when the two are together. Whether it's new a YouTube video or the Marvel Cinematic Universe moving forward with a Valcarol romance, there are no doubt a number of fans who would be elated to see the two women together on screen again.
Source: Brie Larson