Blackfire's Titans Season 3 Costume Revealed In New Images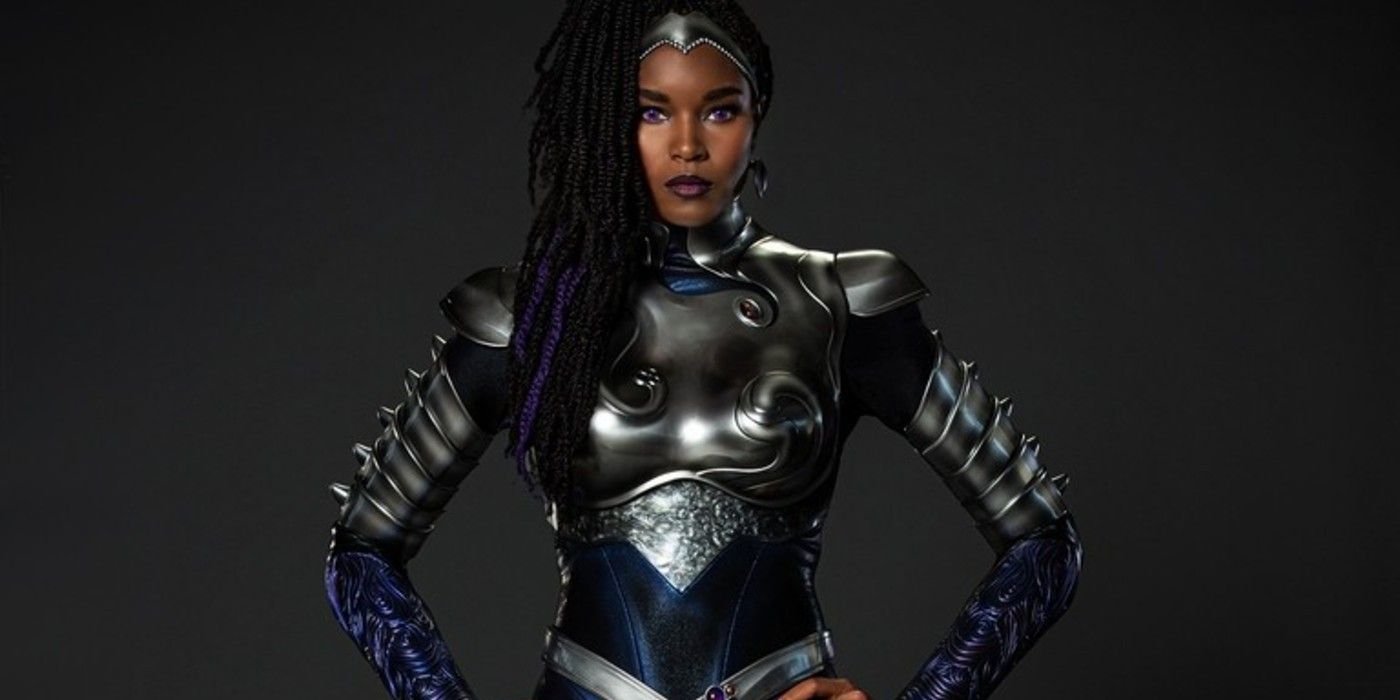 Titans reveals the season 3 costume of new villain Blackfire (Damaris Lewis). Once part of DC Universe's original streaming lineup, the Teen Titans series will make the jump to HBO Max for its third season. Titans was a major player for DC Universe, with fans flocking to the new take on the DC Comics team. The series earned some criticism for taking a long time to develop the group, but season 2 rectified this and set up a thrilling third season, whose production got off to a late start due to the coronavirus pandemic.
Much of the hype surrounding Titans season 3 has revolved around the introduction of Barbara Gordon (Savannah Welch) and Jason Todd's (Curran Walters) transformation into Red Hood. However, the next batch of episodes promises to feature plenty of excitement for Anna Diop's Koriand'r, aka Kory Anders, aka Starfire. The Titans season 2 finale teased the arrival of her murderous sister Blackfire, who intends to destroy Kory once and for all. A major showdown lies ahead, and now fans know what Blackfire will look like when it arrives.
Titans and HBO Max have officially unveiled Lewis' Blackfire costume, in a reveal similar to Starfire's season 3 look back in November. The concept art for her design comes first, followed by a shot of Lewis in the suit. It's clear the final product managed to stick close to the art, and the complete look is something to behold. Blackfire isn't messing around. Scroll on to check both images out.
Blackfire's battle look holds some similarities to Starfire's, though overall they feel specific to each character. Whereas Starfire's costume is brighter and in her signature purple, Blackfire has taken on a darker, more foreboding color palette. The whole costume speaks to her dangerous nature, and it indicates Titans fans should be very, very concerned about what she has planned. And as Lewis has been made a series regular for Titans season 3, audiences can expect to see a lot of her.
Titans showrunner Greg Walker previously promised season 3 will see Kory fully embrace her Starfire persona, and it seems likely her conflict with Blackfire will contribute to that transformation. From what has already been revealed about Blackfire, she's a formidable enemy, and she's got her sights set firmly on her sister. Titans fans are surely bracing themselves for the battle to come, though it remains to be seen when it will actually be revealed. Titans season 3 was pushed back due to the pandemic, so it likely won't premiere until later this year. However, HBO Max has provided plenty of teases to ease the wait, so there's bound to be more ahead for fans to look forward to.
Source: HBO Max