Below Deck: What Happened To Elizabeth & James After Filming Ended?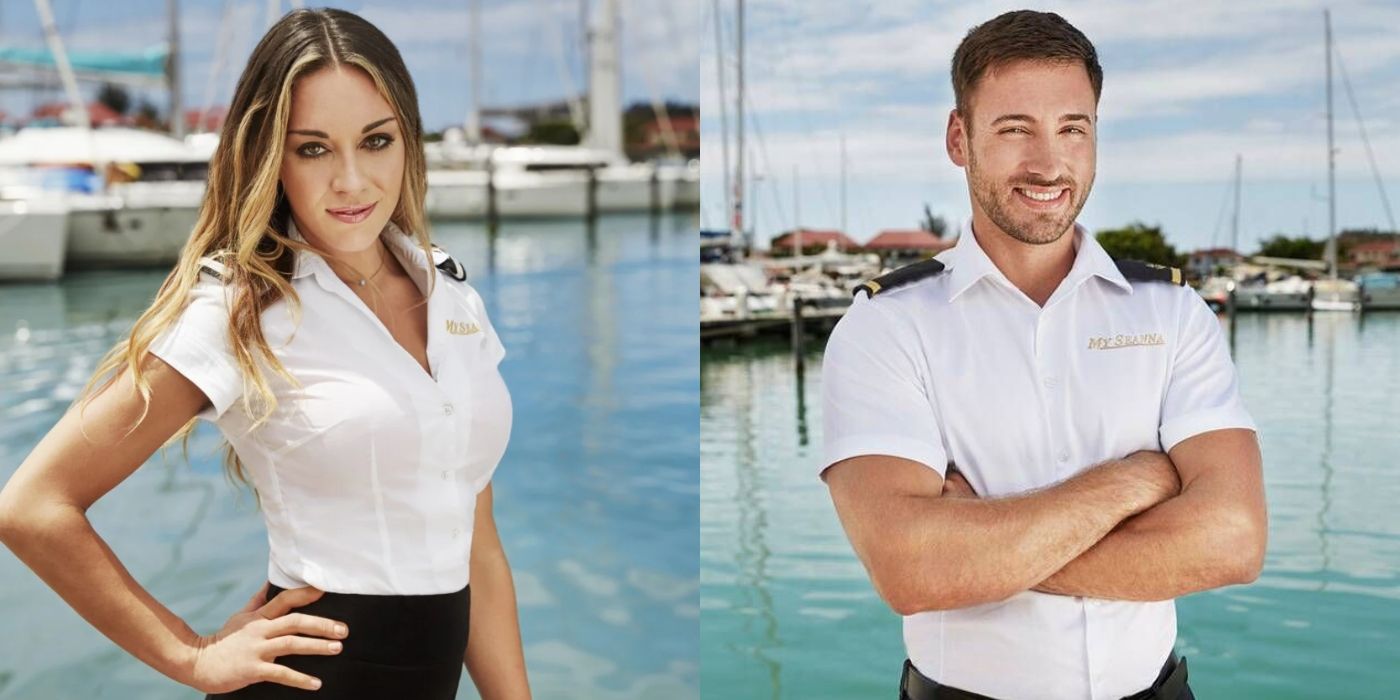 Bravo's Below Deck follows the exciting interpersonal drama of a superyacht crew, and season eight has heavily featured former stewardess Elizabeth Frankini. The guests might be demanding and can certainly generate a lot of drama, but the real entertainment comes from the interactions between crew members. There are crew romances, crew feuds, and sometimes even fights between the Below Deck cast. After all, the crew plays as hard as they work, and they work hard all day, every day. Sometimes, they even put aside their relationships at home to do their jobs to the best of their abilities. This was especially hard for Rachel Hargrove and her boyfriend.
Relationships are common and even expected between crew members when it comes to superyachts. After all, when you get a bunch of young twenty and thirty-something-year-olds on a boat for several weeks, chemistry is bound to develop. On season eight, sparks flew between stew Elizabeth and deckhand James. Throughout the show's run, there has very rarely been a relationship that went on much longer than the charter season. However, Elizabeth and James' relationship seemed to have legs at first. The couple hit it off from the start and kept that heat throughout the season. Things got quite dramatic, though, as they got caught canoodling in various inappropriate environments. Sometimes they would sneak off to the hot tub or one of their cabins. On a couple of occasions, they went into a guest cabin to spend some one-on-one time together.
But like most Below Deck relationships, Elizabeth and James' connection was rather shallow. While Elizabeth kept asking for more from James, he spent his time trying to communicate that he wasn't that into her. In fact, he purposely didn't even give her a kiss on her birthday. Despite his lack of interest, Elizabeth continued to pursue her man. So, what happened to this couple after the season ended? While it's unclear what the relationship was like post-filming, it's pretty apparent that Elizabeth and James didn't try to rekindle their romance. While chatting with Andy Cohen, Elizabeth revealed she was actually spending time with someone new after the season ended, though she didn't reveal who it was. Check out Elizabeth explaining her regrets about the season on Watch What Happens Live with Andy Cohen:
During the season, her relationship with James actually caused Elizabeth to lose her job, as she let their romance get in the way of her other duties on top of sleeping in a guest cabin. The relationship was always one-sided, unbeknownst to Elizabeth. She wanted to be with James and would not let his player nature get in the way of that. Of course, audiences got to see James respond to Elizabeth from the safety of his confessionals, and the irony of Elizabeth chasing him was both cringy and endlessly entertaining. Elizabeth was fired and never really got to have a moment of closure with James, which was all for the better from his point of view.
After the show, the two have not stayed together. In reality, they were never really together. It was a one-sided affair. Elizabeth has moved on, though, and seems to have some regrets about getting into the relationship in the first place. Hopefully, next season whatever the relationship is on Below Deck, it works out!
Below Deck airs Mondays at 9 pm ET on Bravo.
Sources: Bravo/Youtube