Batman Faces His Fears Against DC's New, Terrifying Scarecrow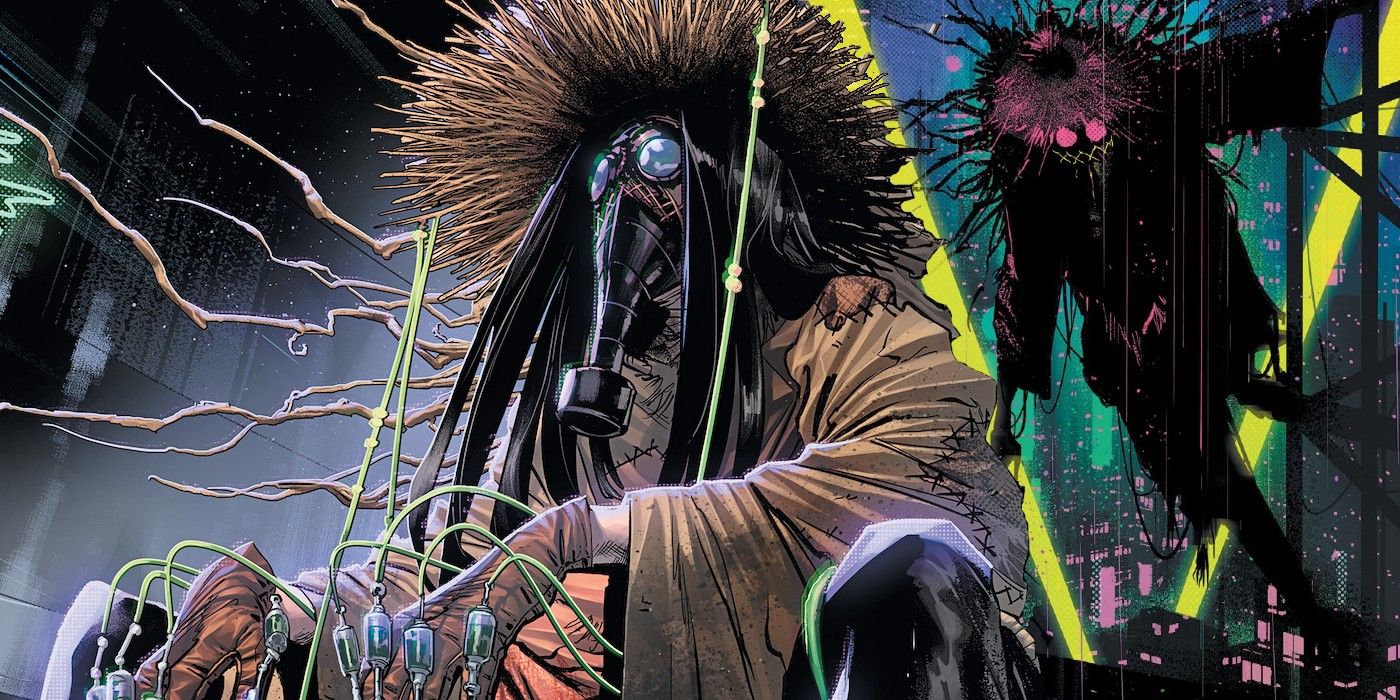 Warning: mild spoilers for Batman #106!
In a preview for the next issue of DC Comics' Batman, the Dark Knight is going to have to reckon with the reemergence of the new and improved Scarecrow. Dr. Jonathan Crane is back, and he has major plans to bring both Batman and Gotham City to its knees in fear. With the series having returned back to the present after DC's Future State event, Batman will be grappling not only with the aftermath of the Joker War, but with the fall of Arkham Asylum. As a result, Gotham is in an even darker place than usual, and the Scarecrow is no doubt going to take advantage and amplify the resultant fear to whole new levels.
Batman #106 will see the return of creative team James Tynion IV and Jorge Jimenez, as they continue to flesh out the new status quo for Bruce Wayne. Not only is he no longer a billionaire and operating without his usual arsenal, but he no longer has the faith of the city behind him, as Batman has reached an all-new low when it comes to public support for his family's efforts as vigilantes. To top it all off, it looks as though Scarecrow's return will only serve to exacerbate growing fear and anti-vigilante sentiments, and the villainous Unsanity Collective are likewise broadcasting subversive messages arguing for a 'New Gotham City.'
Additionally, it appears as though Dr. Crane will be getting his hands on Batman himself, taking him hostage and subjecting him to extreme mental torture, having strapped him down and forced his eyes open to bear witness to whatever it is Scarecrow has planned. Class will be in session, and Crane is seen educating Batman on the basics of fear and its terrible effects on the mind and body. Enjoy the DC Comics preview pages and story summary of Batman #106's 'The Cowardly Lot: Part 1' from writer James Tynion IV and artist Jorge Jimenez:
Following the tragic events of Infinite Frontier #0, Batman and his new ally, Ghost-Maker, must reckon with a new gang operating in Gotham City—but are they connected to the reemergence of the Scarecrow? Meanwhile, shadowy billionaire Simon Saint pitches an advanced law-enforcement system to the new mayor! The creative team behind the epic "The Joker War" returns with a thrill-packed, dangerous new storyline called "The Cowardly Lot."
Writer James Tynion IV has already revealed that Scarecrow will be the major Batman villain of 2021, and it makes sense that he seems to be scarier than ever, given he needs to offer Batman a challenge worthy of following the bombastic Joker War. But while Scarecrow has never been scarier, DC's Future State event already flashed ahead to share the likely end-game of Simon Saint's advanced law enforcement system. While that only dials up the threat in Batman's ongoing comics – as readers know he isn't far away from living in the sights of the fascistic Magistrate organization – it does mean Scarecrow needs to prove he's a clear and present danger. Future State saw Jonathan Crane muzzled and working for the Magistrate, ultimately outsmarted by Harley Quinn, and it's likely this issue will go to great lengths to remind readers that wherever he might end up, the Scarecrow of the moment is a serious threat to Gotham.
Fans will also be excited to see the return of Barbara Gordon's Oracle – the 'woman in the chair' for the Bat-Family's crime-fighting efforts. Given the recent death of Alfred Pennyworth, Batman needs someone fulfilling this vital role, but Oracle has long been an unparalleled strategist, meaning that while Bruce is hitting the streets without many of his trademark gadgets, he will – in both Oracle and new ally Ghost-Maker – be working with a greater team than ever. Clearly that's not enough to keep him out of the clutches of Scarecrow, but hopefully it'll be enough for him to win the day when Batman #106 releases March 2.