Barb & Star Go To Vista Del Mar Cast Guide: Every Cameo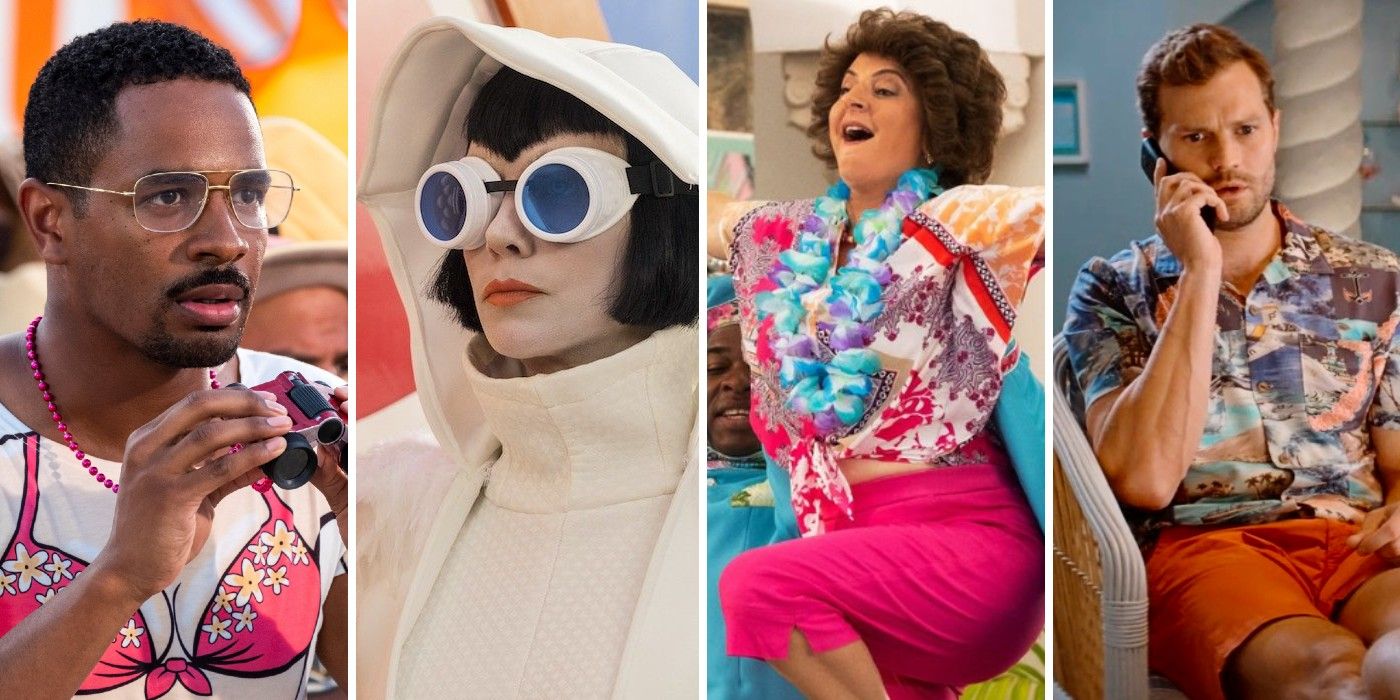 Barb and Star Go to Vista Del Mar stars Kristen Wiig and Annie Mumolo, but it also has plenty of familiar faces and hilarious cameos in the supporting cast. Directed by Josh Greenbaum, the 2021 comedy follows two best friends from the Midwest who do on vacation in an effort to rediscover their "glimmer." The screenplay was co-written by Wiig and Mumulo, who previously earned Oscar nominations for writing the 2011 classic Bridesmaids.
In Barb and Star Go to Vista Del Mar, the titular characters are living a comfortable, co-dependent life in Soft Rock, Nebraska. After losing their jobs at Jennifer Convertibles and getting kicked out of a local "Talking Club," they take the advice of a friend and travel to Vista Del Mar, a hotspot in sunny Florida. Little do they know that the villainous Sharon Gordon Fisherman plans to blow up the city during a Seafood Jam event – at least, if her accomplice Edgar can follow through with his mission. Barb and Star Go to Vista Del Mar is the latest comedy from Gloria Sanchez Productions (Booksmart, Hustlers, Eurovision Song Contest: The Story of Fire Saga).
The main cast for Barb and Star Go to Vista Del Mar features Wiig in a dual-role gig, and also includes a supporting performance from Fifty Shades of Grey heartthrob Jamie Dornan. Here's a full cameo guide and cast breakdown for Barb and Star Go to Vista Del Mar.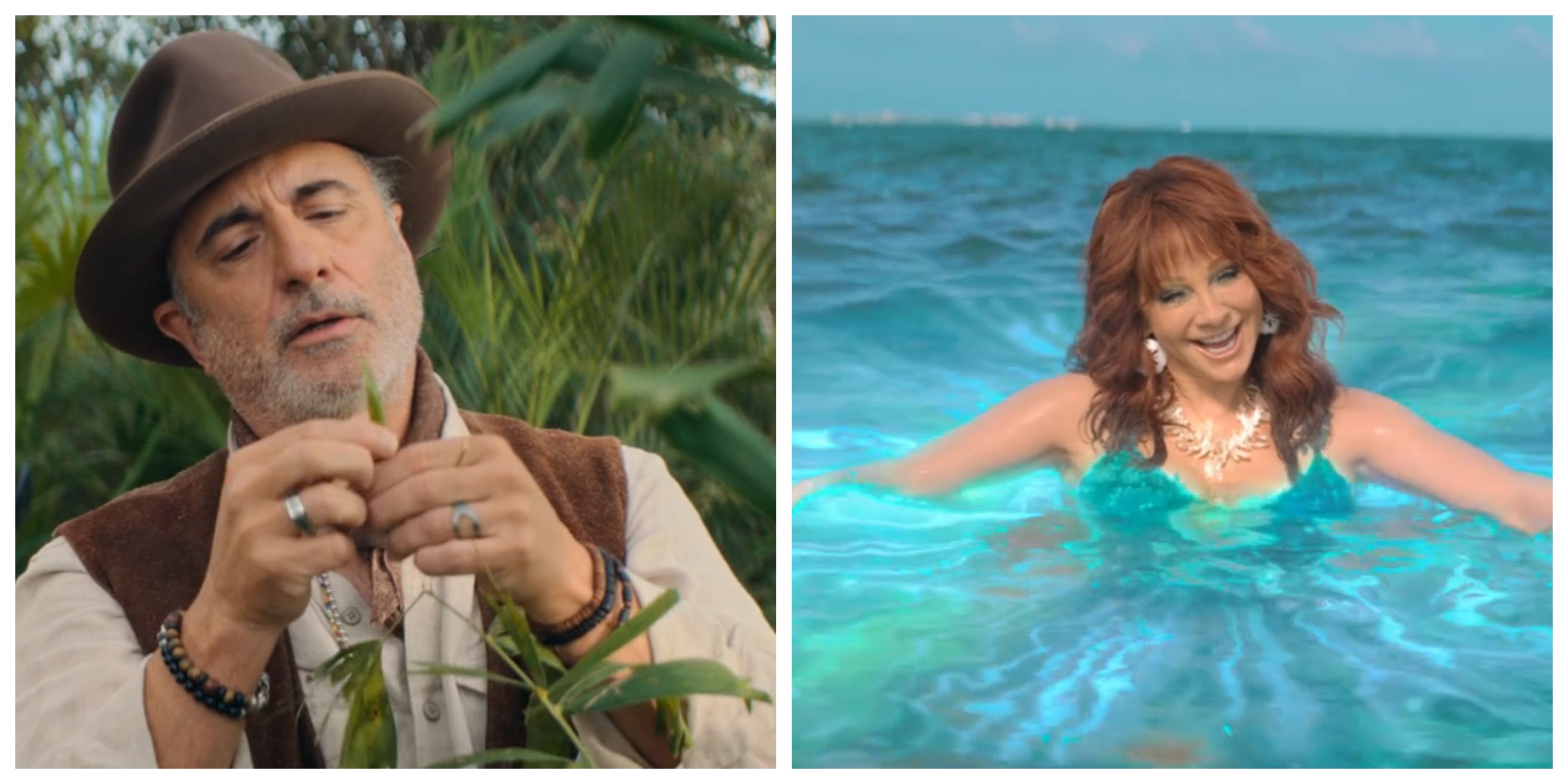 Andy García as Tommy Bahama: A farmer who meets Barb and suggests that her "shimmer" is "on the horizon." Andy García appeared as George Stone in the 1987 film The Untouchables and also received an Oscar nomination for portraying Vincent Mancini in the 1991 movie The Godfather Part III. In the 2000s, he starred as Terry Benedict in the Ocean's movie franchise. He recently portrayed Fernando Cienfuegos in Mamma Mia! Here We Go Again.
Reba McEntire as Trish: A water spirit who assists Barb and Star. Reba McEntire is a country music icon; a seven-time winner of the Academy of Country Music's Top Female Vocalist award. She starred in the 2000s TV series Reba and most recently appeared as June in Young Sheldon.
Damon Wayans Jr. (above) as Darlie Bunkle: A mystery man who is hired by Sharon and steadily reveals too much information about himself. Damon Wayans Jr. starred as Coach in New Girl and Brad Williams in Happy Endings. He also appeared as Fosse in The Other Guys and Justin in Let's Be Cops.
Vanessa Bayer as Debbie: The leader of Talking Club. A former Saturday Night Live cast member, Vanessa Bayer appeared as Nikki in Trainwreck and Allison in Office Christmas Party.
Phyllis Smith as Delores: A member of Talking Club who just wants to chat about horses. Phyllis Smith co-starred as Phyllis Vance in The Office and voiced Sadness in Inside Out. She recently appeared as Betty Broderick-Allen in The OA.
Wendi McLendon-Covey as Mickey Revelet: Barb and Star's friend, who recommends visiting Vista Del Mar. Wendi McLendon-Covey portrayed Rita in Bridesmaids and starred as Deputy Clementine Johnson in Reno 911! She currently headlines The Goldbergs as Beverly Goldberg.
Fortune Feimster as Pinky: A member of Talking Club who works year-round at the Christmas Store. Fortune Feimster portrayed Colette Kimball-Kinney in The Mindy Project and Dougie in Life in Pieces. She currently co-hosts the Netflix show The Netflix Afterparty.
Mark Jonathan Davis as Richard Cheese: A Palm Vista Hotel performer who sings about breasts and dead classmates. Best known as playing the same lounge singer character he plays here, alongside performing as Richard Cheese (and releasing records), Mark Jonathan Davis voiced a virtual news anchor in Batman Beyond and recently voiced a lounge singer in The Lego Batman Movie. As Cheese, he performed "Night and Day" and "Ev'ry Time We Say Goodbye" for the Batman v Superman: Dawn of Justice soundtrack.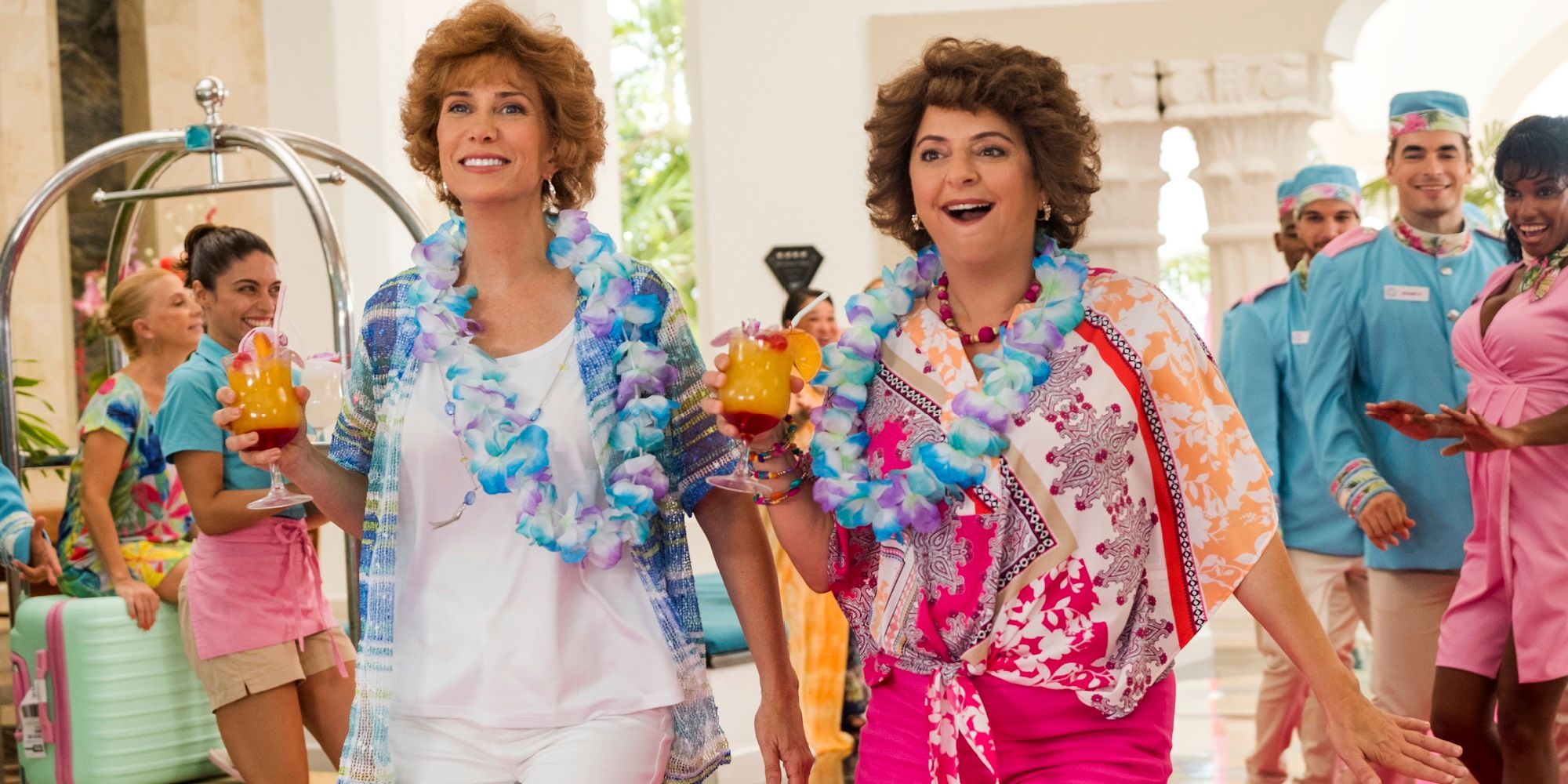 Kristen Wiig as Star and Sharon Gordon Fisherman: Star is a woman from Soft Rock, Nebraska who was left by her husband, Carmine. She's friendly on the surface but has a naughty side, and secretly carries on a sexual relationship with Edgar. Wiig also plays the movie's villain Sharon Gordon Fisherman, who was born with a skin condition that makes her allergic to sunlight. As a child she was traumatized by an accident at Vista Del Mar, and now she's determined to have her revenge on the community. She strings poor Edgar along to make him to do her bidding, but has no interest in becoming an "official couple."
Kristen Wiig was a Saturday Night Live cast member from 2005 to 2012. She delivered a breakthrough movie performance in the 2011 comedy Bridesmaids and co-starred alongside Bill Hader in the 2014 dramedy The Skeleton Twins. In recent years, she portrayed Audrey in Where'd You Go, Bernadette and voiced Jessi's Vagina in Big Mouth on Netflix. Wiig also co-starred as Barbara Minerva in Wonder Woman 1984.
Annie Mumolo as Barb Quicksilver: Star's best friend, who was left a widow after her husband Ron died. Annie has a drunken sexual experience with Star and Edgar, but doesn't realize that they are continuing to hook up behind her back. Though she's initially determined to experience everything that Vista Del Mar has to offer with her best friend, Barb is tempted away to try to solo activates. Annie Mumolo portrayed Barb in This Is 40 and Vicky in Bad Moms. She also appeared as Beth Wiedner in Angie Tribeca, and co-wrote Bridesmaids with Wiig, appearing in a cameo role as a nervous woman on a plane.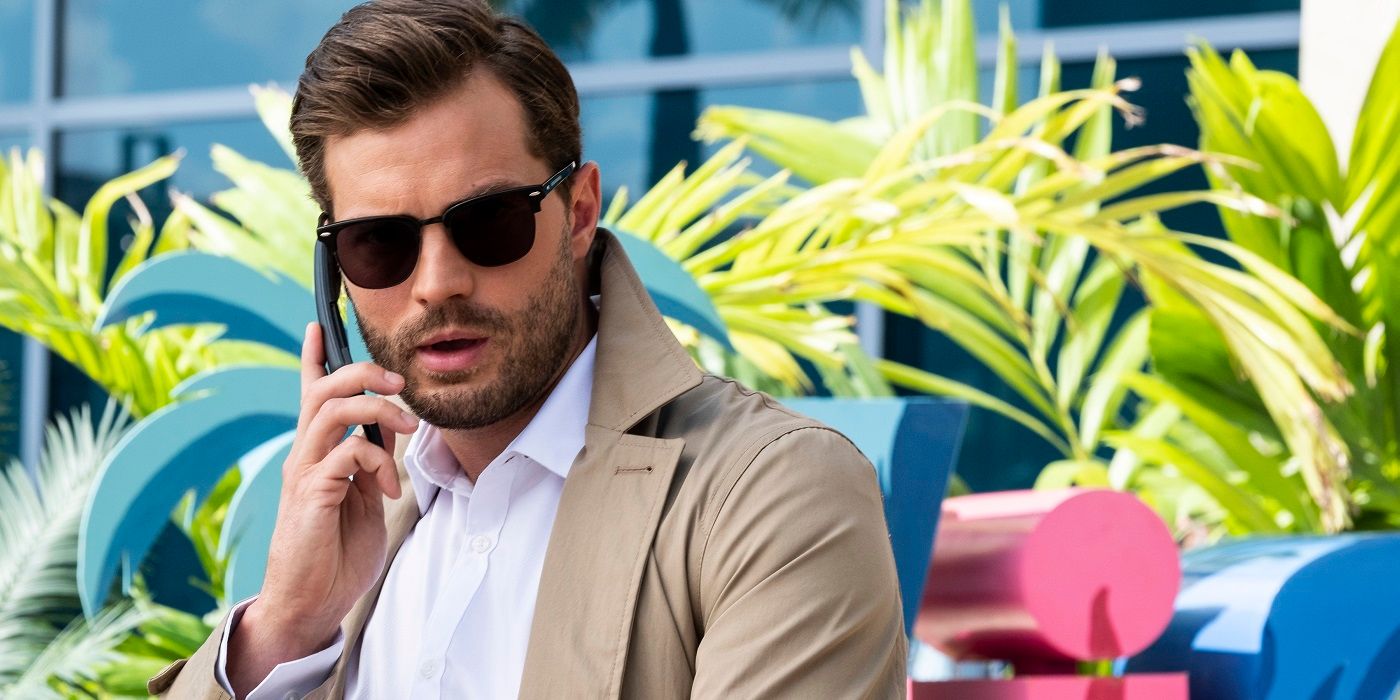 Jamie Dornan as Edgar Paget: Sharon Gordon Fisherman's right-hand man, who yearns to be part of an "official couple." Jamie Dornan portrayed Christian Grey in the Fifty Shades movies and starred as Paul Spector in The Fall. He also appeared as Paul Conroy in A Private War and voiced Chaz in Trolls World Tour.
Josh Robert Thompson as Morgan Freemond: A talking crab. Josh Robert Thompson voices Morgan Freeman, Donald Trump, and Willie Nelson in Family Guy. He also voices Jerry Seinfeld, Junior, and Wayne Gretzky in American Dad!
Kwame Patterson as George: A Palm Vista Hotel bartender who makes a drink called "The Buried Treasure." Kwame Patterson portrayed Monk Metcalf in The Wire and Michael Darden in American Crime Story. He recently appeared as Neckbone in The Oath and Lurp in Snowfall.
Reyn Doi as Yoyo: A newspaper delivery boy who lip syncs "Guilty" by the Bee Gees, only to immediately be revealed as Sharon's tech expert. Reyn Doi portrayed Chucky in Kidding season 1 and Takeshi in S.W.A.T. season 3.
Rose Abdoo as Bev:  A member of the Talking Club. Rose Abdoo portrayed Gypsy in Gilmore Girls and Senator Linda Moskowitz in Scandal. She also appeared as Milli Lerner in Good Night, and Good Luck.
Karen Maruyama as the Caricaturist: A Vista Del Mar artist. Karen Maruyama portrayed China Garden in Arrested Development and Mrs. Finn in Heathers.
Michael Hitchcock as Gary: A concierge at the Palm Vista Hotel. Michael Hitchcock portrayed Ted Mayo in United States of Tara and Dalton Rumba in Glee. He recently appeared as Bert Buttenweiser in Crazy Ex-Girlfriend and Pastor Newell in Black Monday.
Patrick Bristow as Dr. Bradley: A scientist who creates genetically-modified mosquitos. Patrick Bristow portrayed Marty Jacobsen in Showgirls and Walt in The Longest Yard.