Bachelorette: Tayshia Adams Reveals What's In Her Purse (Makeup & More)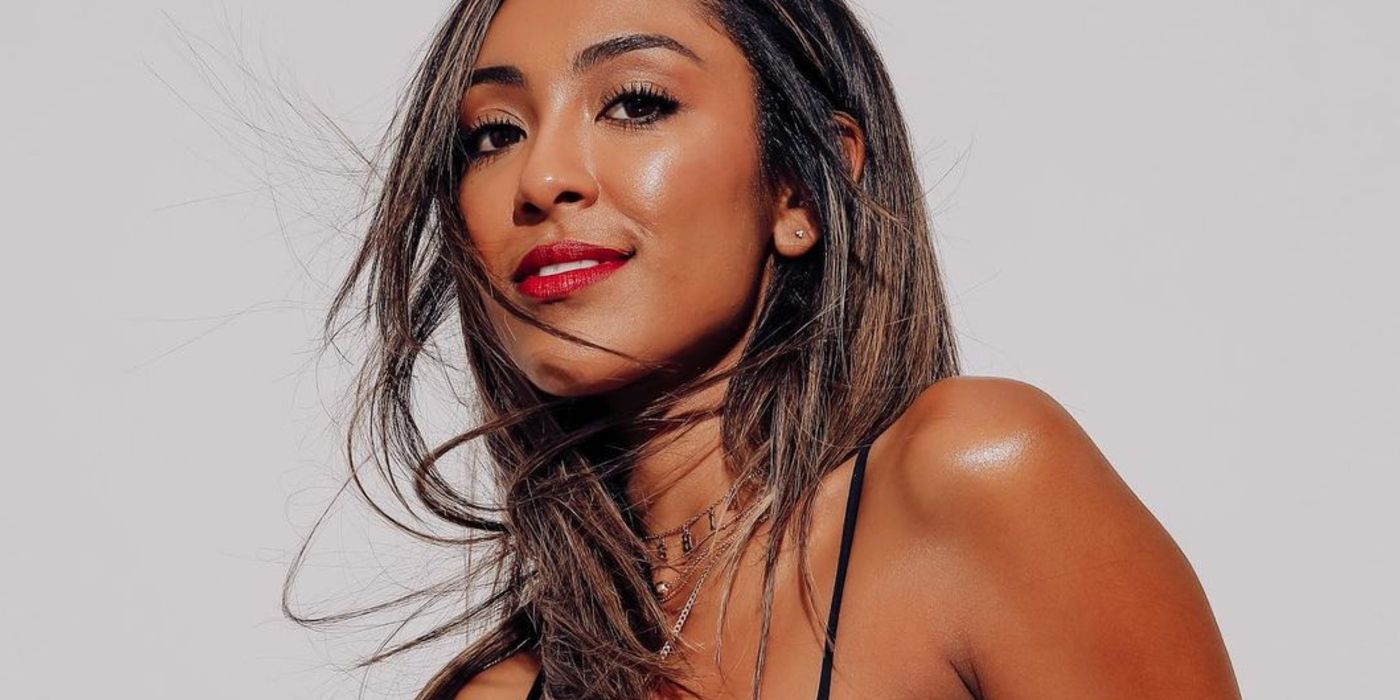 The Bachelorette season 16 lead Tayshia Adams has revealed what's in her purse, and the fans are loving this sneak peek into what she carries at all times. The California girl got her happily ever after when she became engaged to Zac Clark at the end of her season. Bachelor Nation had noted that Tayshia has always had an effervescence and distinctive glow ever since she competed for Colton Underwood's heart on The Bachelor.
Tayshia Adams continued to dazzle the fans when she stepped in as the replacement lead for The Bachelorette after Clare Crawley exited the series upon finding love with contestant Dale Moss. At first, Tayshia admitted that she found it difficult to assimilate into the group of men who had already started to form meaningful connections with the previous Bachelorette. However, over time, she and Zac found common ground on a number of subjects and wound up getting engaged in a quirky final rose ceremony in the Tahquitz Mountains of Palm Springs. Since wrapping production on her season, Tayshia has relocated to New York, where she lives with her fiance. The couple, however, has yet to announce a wedding date.
Now, Tayshia Adams is sharing with The Bachelorette fans everything that she carries inside her purse. In the Refinery29 video found below, the viewers saw that Tayshia's handbag included her phone, illuminating powder, a bottle with her favorite makeup setting spray, some snacks, a lucky dollar gifted to her from her grandmother, her face mask, eye drops, hand sanitizer, an immunity supplement, chewing gum, her passport, a hair tie, hand lotion, mascara, concealer, a lip tint, and also perfume. When it comes to cosmetics, Tayshia is partial to brands like Bobbi Brown and products from Sephora.
Tayshia also noted that the black Dior handbag she carries was a gift from her Bachelorette fiance Zac Clark. In the video, Tayshia was candid and even humorous about the contents inside her purse, saying: "My bag may look very cute and simple from the outside, but honey, it is a hot mess inside." She went on to admit, "My house is probably way more organized than my bag." In the end, Tayshia Adams is just like the rest of us. This all-American girl loves her lip gloss, candy, chewing gum, and favorite fragrance just as much as the next person. The video was also an awesome opportunity for product placement.
Tayshia is keeping herself in the public eye, making the best of the opportunity afforded to her when she took the lead of The Bachelorette season 16. By doing so, maybe she and Zac will have to spend less time answering those pesky questions about kids, nuptials, and what's next for them in their relationship.
Source: Refinery29