Bachelor: Everything To Know About Rachael's Skydiving Mishap (Can She Sue?)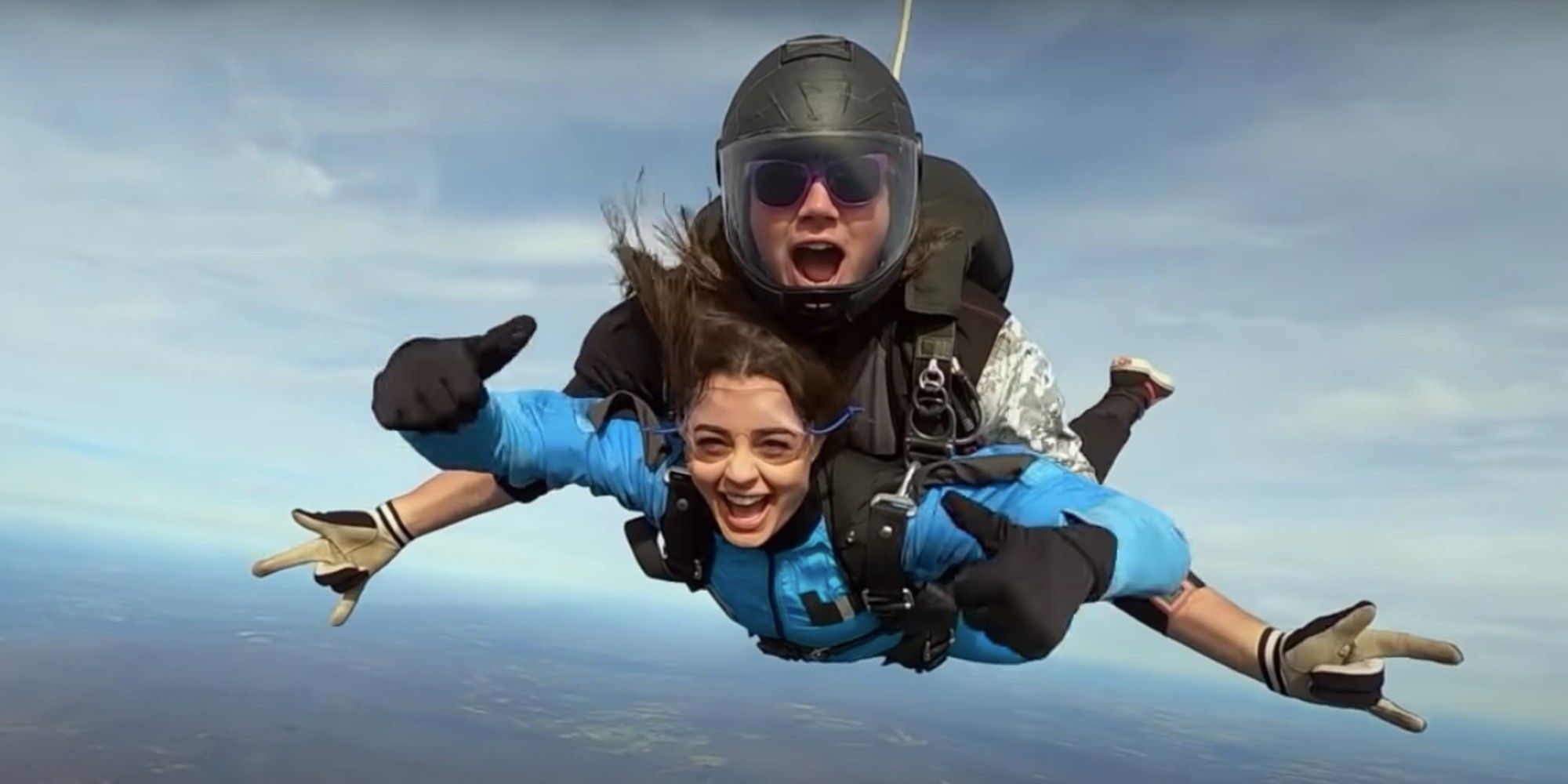 Just hours before Matt James met her family, Rachael Kirkconnell fell harder than ever for The Bachelor. Due to the Covid-19 pandemic, Matt could not fly out to each woman's hometown to meet their families. Instead, production brought the families to their resort in Pennsylvania. On Monday night's episode, Matt went on unique dates with each of the remaining ladies prior to meeting their families. During Rachael's day with Matt, she surprised him with a sky diving adventure. While they both had the time of their lives, the date quickly took a turn for the worse when Rachael had a rough landing. Now, fans are wondering what went wrong and if she could possibly sue the show.
Rachael has been the talk of Bachelor Nation lately since photos resurfaced of her attending an "Old South" themed party in 2018. Rachael quickly became under fire from viewers for her past racist actions. While Rachael stayed silent for quite some time, Chris Harrison came to her defense during an interview with Rachel Lindsay on Extra. Fans were not thrilled about Chris coming to the defense of Rachael nor his racially insensitive comments during the interview. He later released a public apology during which he announced he would temporarily be leaving the show. Rachael has since released an apology of her own as well.
As the latest episode of The Bachelor did not go into much detail of Rachael's bad landing, fans were left wondering what exactly went wrong. According to a skydiving subreddit, the name of the instructor Rachael was attached to is Andrew. He is supposedly around 20 years old and his parents are a part of the board of USPA (United States Parachute Association). Many users bashed this instructor for his awful landing causing injuries to Rachael. They claimed that it is people like him that make the entire skydiving community look bad. It seems as though he attempted to perform a "fancier stand up landing" which ultimately resulted in Rachael's face plant. On the other hand, some fans noticed that not only had the wind picked up prior to their landing, Rachael did not have her legs up as they are supposed to be for a safe landing.
While the landing is perceived to be mainly the instructor's fault, some are speculating that it was actually an intentional incident to add drama to the show. While it is highly unlikely that the production planned for Rachael to get hurt, whether it was intentional or not, Rachael can't actually sue them for it. When joining the cast of The Bachelor, the contestants must sign all types of liability waivers to ensure that if something does in fact go wrong while they are on the show they cannot sue afterwards; however, she may be entitled to suing the skydiving company. According to one Reddit user, even if she did sign a separate liability waiver with the company, she may still be able to sue as they failed to protect her.
Although the episode showed Rachael's nasty skydiving landing, they quickly cut to a scene after she had been cleaned up and the skydiving crew was gone. It is unknown what took place after her crash nor if there were any conversations about who was at fault for it. Following the landing, camera crews quickly cut out all members of the skydiving company. Perhaps Rachael will open up more about this incident during the Women's Tell All airing next week.
The Bachelor airs Mondays at 8pm EST on ABC.
Source: Reddit, Bachelor Nation/YouTube