Animal Crossing's Mario Warp Pipe Is Community's Favorite New Item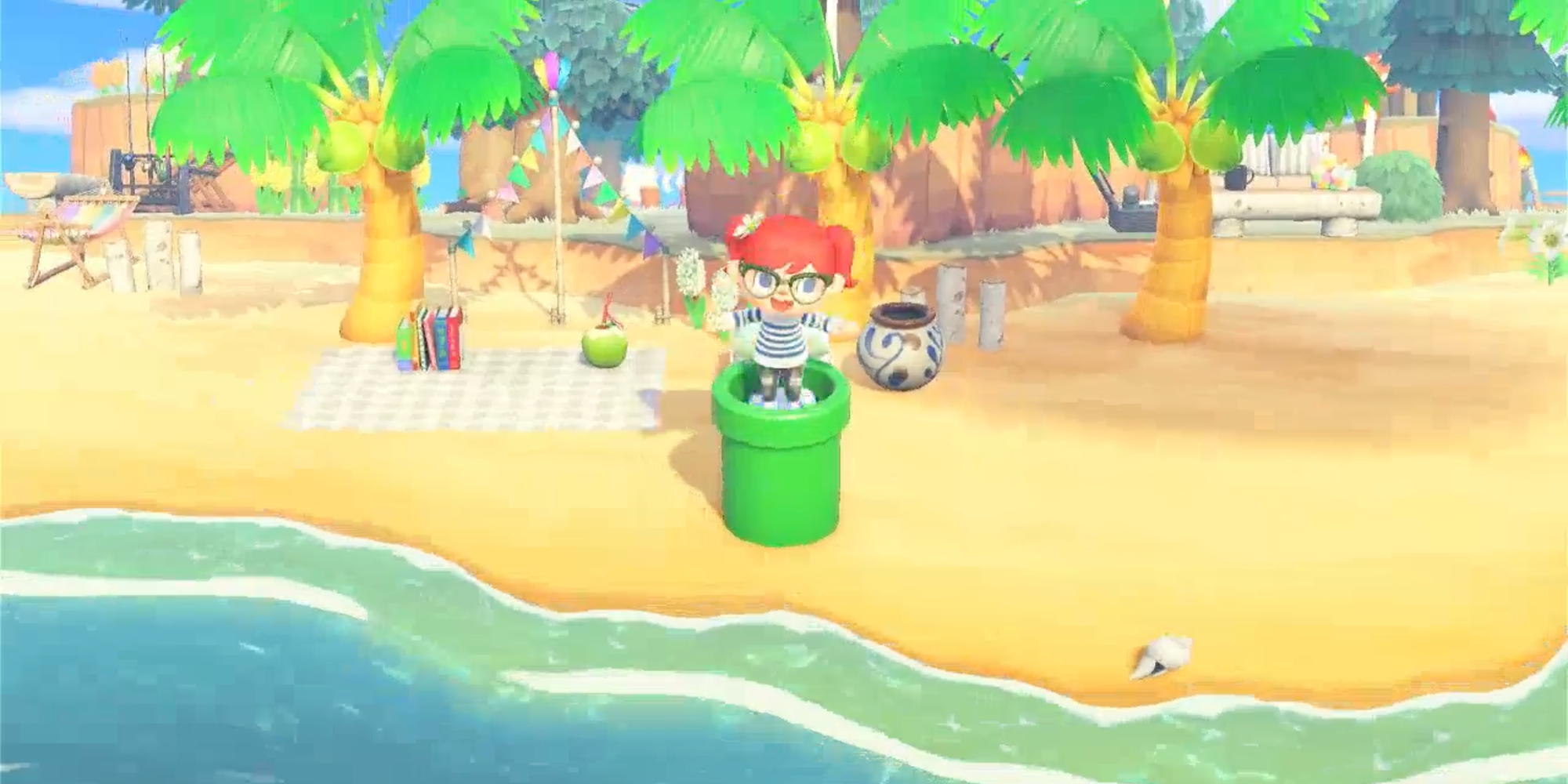 Animal Crossing: New Horizons players are making clever use of the Warp Pipe item introduced in the game's recent crossover with Super Mario Bros. The newest game in the Animal Crossing series, New Horizons allows players to simulate the development of a new community on a previously deserted tropical island. The series is published by Nintendo, creator and owner of such other iconic series as Super Mario Bros., The Legend of Zelda, and Pokémon.
A brand new update for Animal Crossing: New Horizons, which became available on February 25, added a host of Super Mario Bros.-related items to the game which became available for purchase on March 1. These crossover furnishings included iconic Mario items such as coins, shells, mushrooms, and Warp Pipes. These items are all available from the 'Promotions' tab of the Nook Shop terminal (accessed in New Horizons' Resident Services building) and each has its own specific in-game price. One notable item is the Warp Pipe, which costs plays 5,000 bells to purchase. Once they acquire Warp Pipes, players can place them around their island and travel through them just like Mario – transporting them instantly to another location.
As expected of such a useful item, the Warp Pipe has quickly become super popular with Animal Crossing: New Horizons players. While the Warp Pipe serves the specific function of transporting players between placed pipes, the item has found a number of different uses. Redditor u/VictoryRoles placed one Warp Pipe in their home and then carried another around with them at all times. This means that by dropping the second pipe they are able to instantly return to their home from anywhere on their island. Meanwhile, u/Chickachuuu placed two pipes at different spots on their island and, combined with a few stairs, created a functional subway line. Finally, u/tcn923 used a Warp Pipe in a very unorthodox manner by boosting themselves to a higher part of the map. When players exit a Warp Pipe they fly up in the air, and this boost can get you to places that would otherwise require additional reimgs.
In addition to the Super Mario Bros. crossover, there is even more content coming to Animal Crossing: New Horizons in the near future. The change of seasons during the month of March will bring new bugs to players' islands, meaning a new bug hunt is fast approaching. This spring season will bring an abundance of different butterflies to the game along with ladybugs, stinkbugs, and honeybees among other species.
Animal Crossing: New Horizons continues to receive new content and updates close to a year after release. The game's success demonstrates a desire for tranquil creation amongst gamers, despite the overwhelming number of action games within the industry. The crossover with Super Mario Bros. represents a union of two of Nintendo's most popular franchises, and the number of different uses for the Warp Pipe item demonstrates the creativity and innovation of Animal Crossing players.
Animal Crossing: New Horizons is available now on Nintendo Switch.
Sources: u/VictoryRoles, u/Chickachuuu, u/tcn923