All 6 Justice League Superheroes Assemble In New Snyder Cut Poster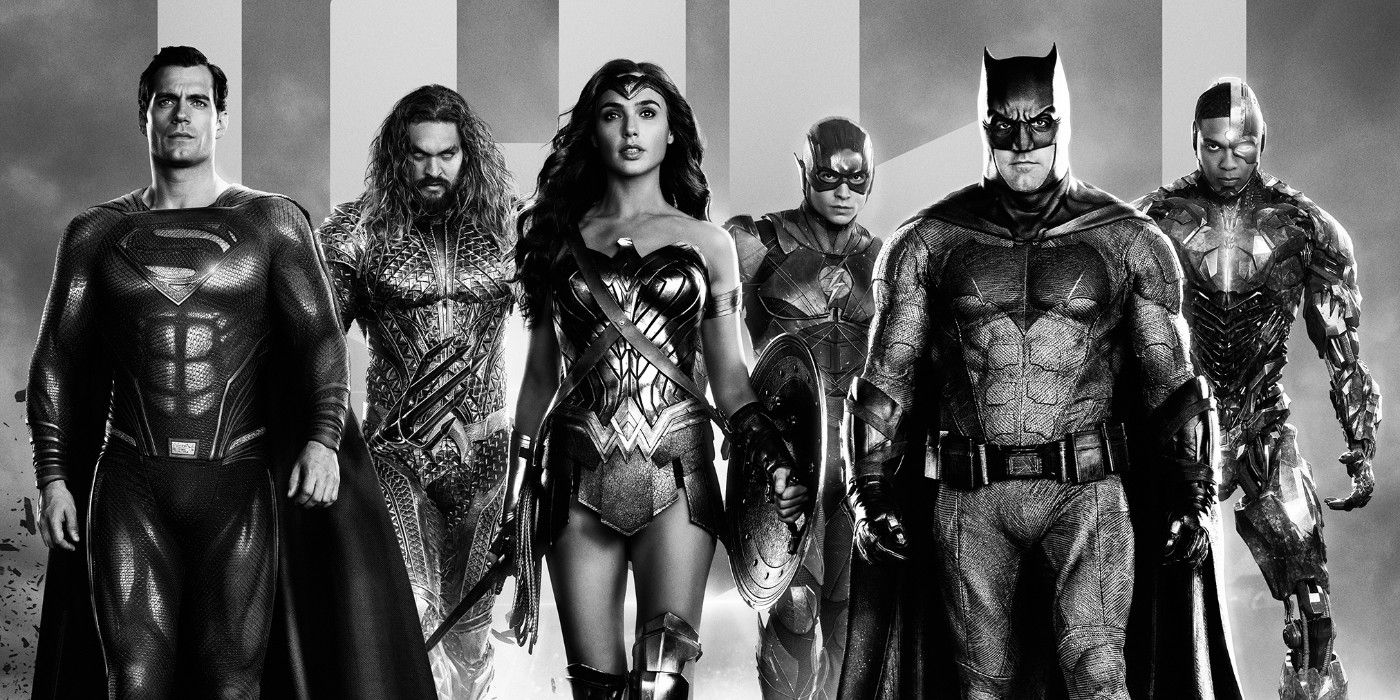 Zack Snyder's Justice League gets a new poster that assembles all six superheroes ahead of its highly anticipated release on HBO Max later this month. The film brings together Ben Affleck's Batman, Gal Gadot's Wonder Woman, Ray Fisher's Cyborg, Jason Momoa's Aquaman, Ezra Miller's Flash, and Henry Cavill's Superman as they attempt to save the world from a new threat posed by Darkseid and Steppenwolf, who themselves have a complex relationship. Originally touted as a four-part TV show, Justice League is confirmed to be released as a standalone 4-hour film on Warner Bros.' streaming service HBO Max in the US, and on VOD globally.
Much changed from the version released by the studio under the hand of controversial director Joss Whedon in 2017, Snyder's Justice League includes a lot of new footage, and a vastly expanded backstory and mythos. The run time is justified, then, and will hopefully go some way to fixing what many saw as a missed opportunity for DC and Warner Bros. to tell a complex superhero story. It might be unfinished, though, as Snyder says it has a cliffhanger ending, despite WB not wanting part 2. Still, expectations are high, and with less than three weeks to release, the marketing machine is in full swing.
The latest is a new poster, released by Snyder on Twitter, which brings all six of the superheroes together. The caption is simply "heroes," and there is no information on the one-sheet beyond the movie's title and release date on HBO Max. It is, as has become customary for this release, a black and white poster, and is notable for including Superman alongside the rest of the Justice League, something WB famously didn't do in marketing for the 2017 theatrical release. You can see the new poster below:
Heroes #SnyderCut #ZackSnydersJusticeLeague pic.twitter.com/IpkArWncoi

— Zack Snyder (@ZackSnyder) March 2, 2021
Superman's central role in Snyder's cut of Justice League is no secret, but his presence on the poster is still a reminder of how WB went about marketing the theatrical release of the movie, refusing to acknowledge that Superman would be resurrected, even while Cavill was appearing in interviews for the film. This poster fixes that, placing him in what one would assume is his iconic black suit following his ressurection.
The black and white poster also references the fact that Snyder will be releasing the Justice League black-and-white cut on HBO Max sometime in the future, a cut he's subtitled the Justice Is Gray edition. The first release will be full color, though, and it hits screens, as seen on the new poster, on March 18th.
Source: Zack Snyder/Twitter