Adorable Pokémon Phone Charger Lets Pichu Cuddle Your Smartphone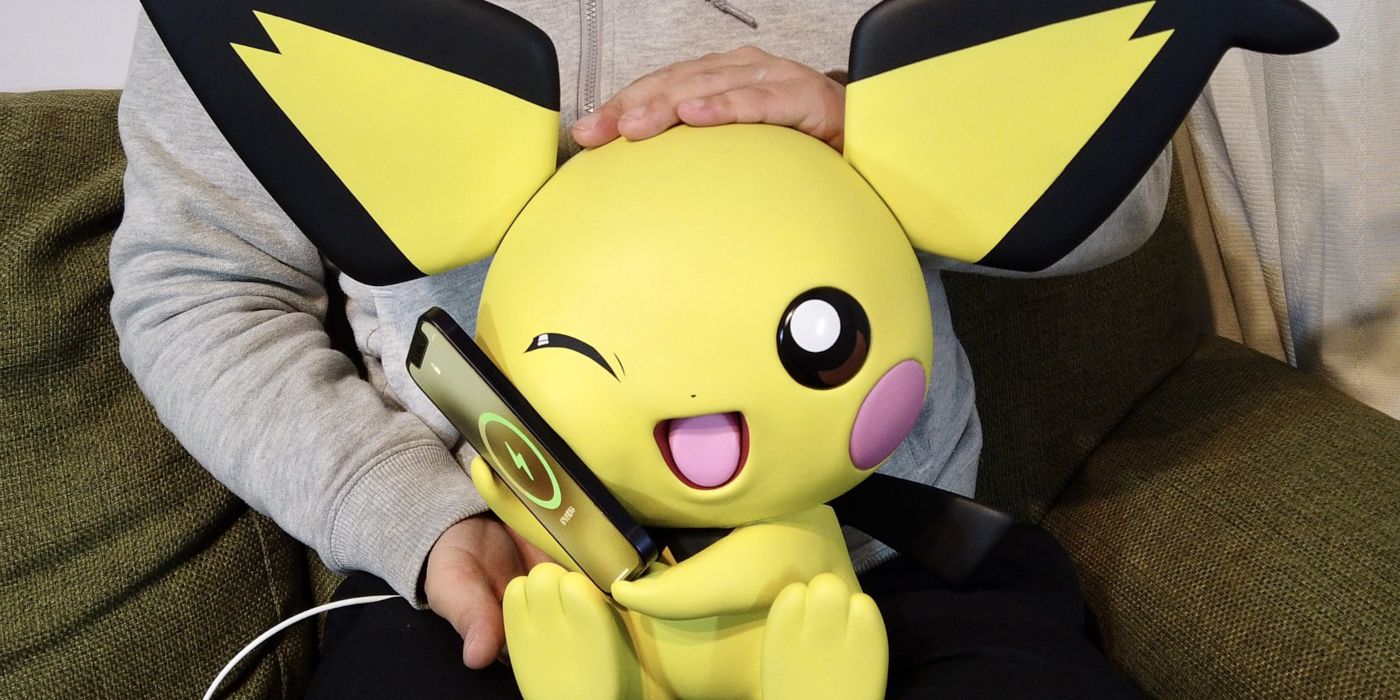 A fanmade Pokémon craft starring Pichu will not only melt fans' hearts, but it can charge their phones, as well. The Pokémon Company is celebrating the 25th anniversary of Pokémon all year long, announcing new updates and merch, but it sadly won't include what may be the most adorable smartphone charger in existence. 
The original Japanese launch of the first Pokémon title, Pokémon Red and Green, came on February 27, 1996. Over the years, February 27 has been dubbed Pokémon Day and marked annual community events, celebrations, and announcements. This year, the Pokémon Company has outdone themselves on the merch front with a virtual concert with Post Malone, an upcoming collaboration with Katy Perry, a tribute music video to the past generations of trainers, and a smorgasbord of adorable merchandise. The most notable of the merch this year is the Pichu phone charger.
This adorable phone charger literally cuddles smartphones back to full charge. Created by Japanese artist Nendo Yoshirin, this clay charging station is equipped with a MagSafe charger in its right cheek, which means any phone compatible with this technology can be charged. The phone is cradled in Pichu's tiny hands, giving the clay figure even more levels of adorable.  This charger is like a dream for Pokémon superfans, and unfortunately, so is the reality of owning one. The stand is only a prototype by the artist posted on Twitter. Yoshirin has made several similarly cute Pokémon creations, all of which can be find on his YouTube and other social media accounts, including a video on how he made the Pichu phone charger.
粘土で実寸大ピチュー作りました!

ぽっぺすりすりしてiPhoneをワイヤレス充電してくれます⚡️⚡️ pic.twitter.com/iGmLyEb5ck

— ねんどよしりん(ポケモンつくる人) (@plasmaclusterha) February 19, 2021
While some Pokémon fans will likely be disappointed in the lack of news about the rumored fourth-generation remakes of Pokémon Diamond and Pearl in the most recent Nintendo Direct, others still hold out hope that Nintendo may have been waiting for the anniversary week to drop the announcement. Previous titles such as Pokémon Sun and Moon, Pokémon Sword and Shield, and the digital re-releases of Pokemon Red, Blue and Yellow on the 3DS were all announced on Pokémon Day. Fingers crossed that February 27 will shine a light on where the company is headed after not releasing a main title in 2020.  So far, fans have only had a few scraps of leaked information online, such as recent GameStop listings, to grasp onto. 
Either way, this Pokémon Day should hopefully bring the fans some clarity on where the series is headed in 2021. In the meantime, the fans will have to hold on until April for the remake of Pokémon Snap to scratch that insatiable Pokémon itch dedicated fans feel from time to time. 
Source: Nendo Yoshirin