90 Day Fiancé: Why Corey Rathgeber Deserves The Villain Label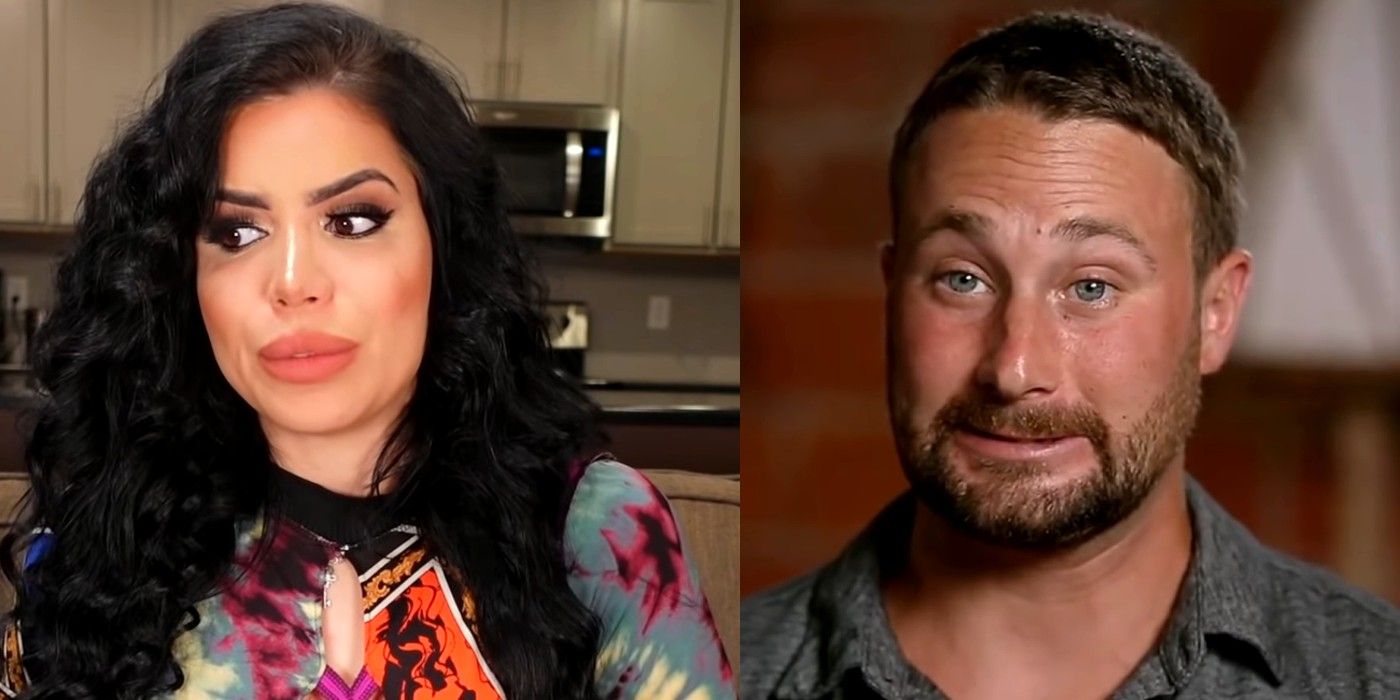 While choosing the most disliked 90 Day Fiancé cast member is a real challenge as there are so many contenders, exotic dancing expert Corey Rathgeber does belong on the list, according to Larissa Lima. The Washington resident Rathgeber debuted on 90 Day Fiancé: The Other Way season 1, and the show followed him as he flew to Ecuador to be with Evelin Villegas. Among their multiple cheating scandals, there was an alleged entanglement between Corey and Colt Johnson's ex-wife Larissa, which really rocked Corey and Evelin's boat. Corey may well be one of the franchise's villains, due to his role in starting a feud between Evelin and Larissa.
Corey, 32, and Evelin, 26, are a dysfunctional duo who always make 90 Day Fiancé audiences play guessing games. Corey has possibly permanently relocated to Ecuador. Last year, fans seemed unsure about his future with his beach bar co-owner Evelin due to her finding a bottle of "feminine wash" in his bag. With the 90 Day Fiancé couple being on a very Ross Gellar-like "break," Corey admitted to getting close to a woman during his trip to Peru. However, Evelin has also supposedly cheated on Corey with an ex by "accident," so all may be forgiven.
It's Corey's meeting with "clown" Larissa that Evelin may never forgive, and Corey and Evelin recently showed up on 90 Day Fiancé: Love Games and got into another on-screen tussle. Evelin stormed off during filming as Corey revealed he'd met Larissa during one of the couple's "breaks." Evelin then shared how Larissa was her "friend," but said that Lima broke her trust when she posted a picture with Corey on IG with the captions, "#NewCoupleAlert" and "#BaeAlert." In a newer video titled, "Date from hell," former 90 Day Fiancé cast member Larissa tells a different tale, which seems to prove that Corey is the one to blame.
Larissa is the Brazilian ex of Colt Johnson, and she had just broken up with Eric Nichols when a 90 Day Fiancé couple from Arizona (she hints that the couple is David Toborowsky and Annie Suwan) introduced her to Corey. Corey had then claimed that he was "done" with Evelin as he "suffered a lot" while texting Larissa Lima. She added that Corey wanted her to fly to Arizona but eventually decided to come to Las Vegas himself. "He is single, I was single, match," thought 90 Day Fiancé: Happily Ever After? star Larissa, but also admitted that the situation was "too good to be true."
On the day of their meeting, Larissa's intuition told her to not go. She realized that Corey could be lying, but she went anyway. After meeting, he told her that his "ex" was jealous, while also revealing that he was married to Evelin. Larissa also revealed that she felt Corey was "not her type" and there was a chance "he's still married."
When Larissa decided that she could only be good friends with Corey and asked him if she could take a photo to "remember the night," and post it, he told her to go right ahead. "This guy might want some clout, some visibility," Larissa concluded. According to her, Corey then asked if she wanted to go to his hotel room. She says that she refused right away.
"I feel this couple should leave me alone. They are married, they should focus on their marriage," said Larissa about Corey and Evelin as she concluded the tell-all video. However, if Larissa is to be believed, it was Corey who was interested in dating her in the first place. The 90 Day Fiancé star says that Corey may now claim Larissa is lying, but this is her truth and she wants her voice to be heard. Could Larissa's fans be right when they call Corey Rathgeber a villain for lying in the first place? The answer is yes.
90 Day Fiancé airs on TLC Sundays at 8pm.