90 Day Fiancé: Why A Wall Outlet Convinced Fans Ariela Is In The USA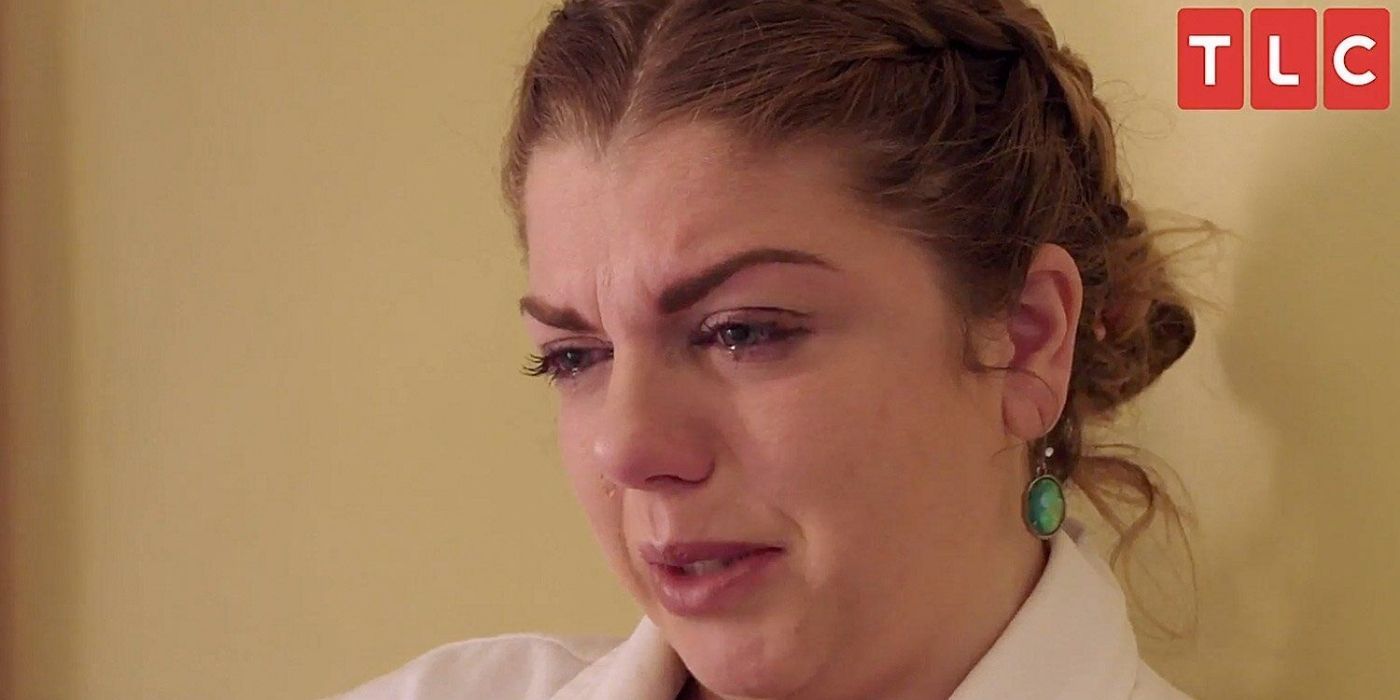 Amidst many doubts on whether 90 Day Fiancé: The Other Way couple Ariela Weinberg and Biniyam Shibre will stay together, they appear to have proved everyone wrong. The season two couple is often seen posting Instagram videos and pics with baby Aviel, indicating all's well after the finale in Ari and Bini's lives. But a recent appearance by the pair on Discovery+ spin-off 90 Day Bares All, revealed Ariela was still struggling to trust Biniyam. To make things worse, fans also noticed a wall outlet behind Ariela that hinted she might be back in the USA.
When season two of 90 Day Fiancé: The Other Way began, New Jersey resident Ariela was expecting her first baby with Ethiopian Biniyam and making a permanent move to be with him. While Ariela's skeptical family advised otherwise and her mother, upon seeing Biniyam's living conditions, disapproved of her giving birth in Ethiopia strongly, the advice fell on deaf ears. Ariela, who is Jewish, also had it rough with Biniyam's sisters, who wanted the unborn baby to be baptized into their faith, Orthodox Christianity. The Ethiopian women also felt 90 Day Fiancé star Ariela would leave Biniyam just like his ex-wife, Bria, had after having their baby. Somehow Biniyam, who appeared to be wildly in love with Ariela, backed up his sisters instead of supporting his partner.
While Biniyam and Ariela did get engaged in the 90 Day Fiancé: The Other Way season two finale, their social media life showed them at their happiest best with baby Aviel, who's now 15 months old. But Ariela sang a different tune on 90 Day Bares All when she revealed she was having relationship problems with Biniyam, who's "never home." However as the tensions certainly seemed to be high between Ariela and Biniyam, fans also noticed that, not only was Ari not seated next to her partner, but she also seemed to be in the USA at the time of filming. Fan page 90DayCouple observed the electrical outlet behind Ariela was an American style, and not an Ethiopian one.
However, Ariela and Biniyam have also been traveling a lot lately, as is evident via their IG posts with beaches and forests. A viewer noted in the comments, "It's possible they have North American outlets if it's a resort." Another comment says, "A lot of hotels overseas have changed their outlets to American style." Still, it's possible Ari was back in the US, as her Bares All appearance didn't suggest happy times for the couple. Ari claimed Bini ends up ghosting her when he goes out to work on new projects with friends. But when Ariela mentioned how these friends would be drinking rather than getting any work done, Biniyam claimed Ariela's brain was being "poisoned." Biniyam's sisters, Wish and Mimi, who also showed up on 90 Day Bares All, suggested they had a negative relationship with Ariela, who allegedly is reluctant to embrace their Ethiopian culture.
But it could also be that this particular 90 Day Bares All episode wanted fans to think Ariela and Biniyam were not staying together, although their social media defies the fact. Fans recently spotted Ariela and Biniyam in Kenya, which was also evident via their IG content. Now, with rumors of the 90 Day Fiancé couple returning to Ethiopia, fans have also noticed a swanky new apartment in both their IG videos. This does show Ariela and Biniyam are indeed still together with baby Aviel. But if they do have any problems at all, the secrecy surrounding their issues could mean they're getting another 90 Day Fiancé spin-off to showcase their married life.
Source: 90DayCouple