90 Day Fiancé: Tania & Syngin Spotted At Airport, Not Divorced (Yet)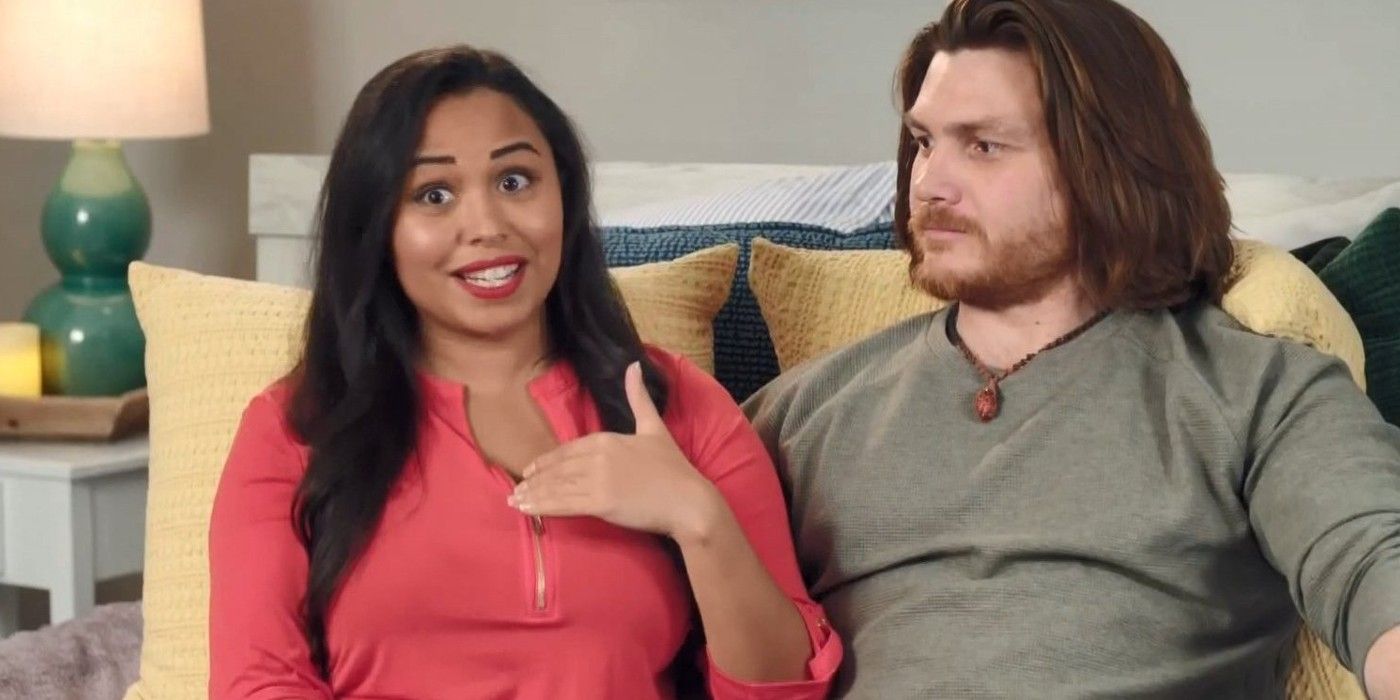 Over the past seven years, many fans have become invested in how 90 Day Fiancé relationships turn out. While some relationships end in a messy divorce, a surprising number of couples stay together after their season finishes airing. Tania Maduro and Syngin Colchester are one example of a couple fans expected to fail. The season seven pair presented plenty of problems, and many fans have cited Tania as one of the most loathsome cast members in the show's history. However, a fan recently caught up with the couple and revealed they are still together despite their past drama and issues.
The couple, who also appeared on 90 Day Fiancé: Happily Ever After?, presented a relationship many fans thought wouldn't last. Rather than comfort her homesick South African partner, Tania would repeatedly taunt him and criticize his drinking. Tania revealed herself to be an unreliable and often unkind partner to Syngin, which had many viewers rooting for the couple to split. Though the couple announced Tania was helping Syngin get his green card paperwork together to feel like a permanent fixture in her native Connecticut, and the couple has shared racy photos together, fans were still skeptical of their relationship lasting. Surprisingly, one fan revealed the couple appears happy together.
Recently, one Reddit user a photo of herself with Tania and Syngin in the airport. "Tania and Syngin sighting on my flight from LAX to ATL! They were nice enough to let me take a picture!" she wrote. "They're still together!?! He's not even her soulmate," one fan wrote, referencing Tania's infamous line. For fans who might have forgotten, Tania previously devastated Syngin when she revealed she didn't consider him to be her soulmate. Though viewers mostly disliked Tania, many were rooting for Syngin. "Love that you can tell Syngin is smiling even though he has a mask on," a commenter wrote about the photo. You can view a screenshot of the post below:
"I can't believe they are still together. Unpopular opinion here, I actually like Syngin," one fan wrote. Many quickly chimed in that they liked the male half of the couple as well. Fans were also quick to comment on the couple's appearance. "Syngin looks like the sweet lady owner of a small bookshop that I would def take a book recommendation from," one person wrote, while another added that he had developed a "dad bod." Others defended Syngin's appearance. "He looks good. I show up at the airport at 4 an with no sleep or late after a long ass drive. Airport people are interesting, but you can't judge them," a fan wrote.
Some commenters speculated about where the couple might be headed to. "I notice a lot of 90 dayers from diff seasons in LA this week," one person wrote. "Filming pillow talk in fake bedrooms maybe?? 🤞" someone theorized in response. Some users commented that a tell-all is being filmed this weekend for the most recent season, while others speculated that Tania and Syngin might be filming content for 90 Day Bares All. While many viewers have received the new streaming service Discovery+ with lukewarm to negative responses, some have been tuning in to catch the new 90 Day Fiancé franchise content being divulged.
90 Day Fiancé airs Sundays at 8 pm ET on TLC.
Source: Reddit