90 Day Fiancé: Larissa Wows In Emerald After Getting Ab Implants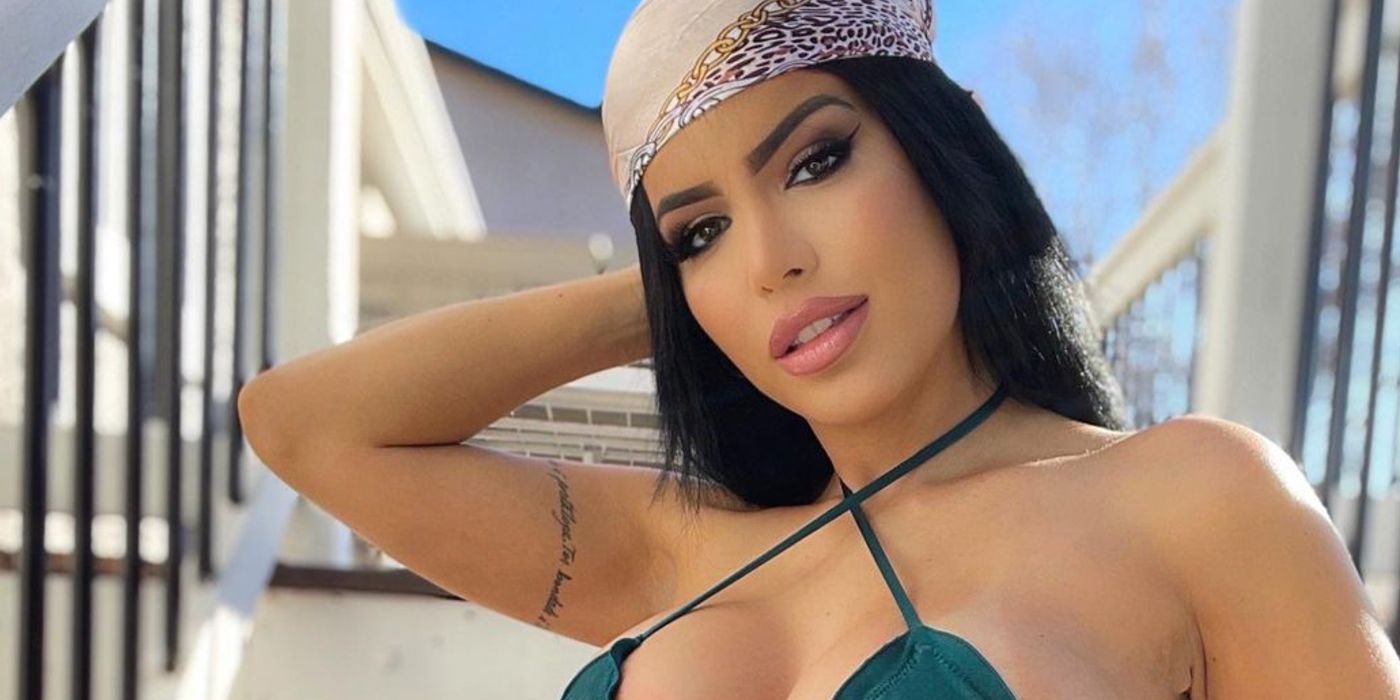 Former 90 Day Fiancé star Larissa Lima is known for her bombshell looks. The Brazilian has been very open about her over $72,000 worth of plastic surgery procedures she has undergone since appearing on season 6 of the hit TLC show. The 34-year-old has paid off the considerable bill with her thriving online presence, as Larissa has made a name for herself on platforms such as OnlyFans and Instagram. However, many fans have been finding themselves confused about Larissa's recent appearance. Now that she had healed, the mother-of-two has been showing off her ab implant surgery that many fans are not fond of.
Before she became a plastic surgery fanatic, Larissa entered the reality television scene alongside her now ex-husband Colt Johnson. While Larissa had her contract with TLC terminated after she appeared in an online lingerie show, Colt has moved on in the franchise. He appeared in the new Discovery+ spin-off show 90 Day: The Single Life this week to try his hand at finding true love after splitting with first Larissa and then Jess Caroline. Meanwhile, Larissa has been keeping her love life busy with her on-again-off-again boyfriend and 90 Day Fiancé: Happily Ever After? co-star Eric Nichols. The Colorado native has been taking care of his ex after her most recent surgeries, which has sparked reconciliation rumors.
Though Larissa discussed her most recent surgeries at the start of the year, the mother-of-two has been recently showing off the results. Earlier this week she displayed her ab implants to fans, though the responses were overwhelmingly negative. Her implants were once again partially visible in a series of photos Larissa shared to her Instagram account on February 23. The 34-year-old posted three separate photos of herself posing in emerald green lingerie. Larissa, who no longer appears on television, has been open about earning money on OnlyFans. The creator often shares glimpses of her racy photoshoots on Instagram to entice fans to subscribe to her paid content. You can view a screenshot of one of her recent photos below:
Though Larissa previously turned comments off on her past abs photos, this time she left the comments section open. While many fans have been critical of her most recent surgery, the Brazilian still has plenty of fans. "Omggggggggg where did you get that lingerie?! Its beautiful," one fan wrote, as another declared Eric to be a lucky man. Though Larissa often has her fair share of critics, she had been supported by loyal fans. "Gotta say, the doctors are working wonders!" an approving fan commented. Others echoed similar sentiments across her posts.
However, many people have been expressing concern over Larissa's penchant for plastic surgery. After already spending tens of thousands of dollars on dozens of procedures, many fans question if Larissa will ever be happy with her appearance. When asked if she is satisfied, Larissa has suggested on her Instagram Story that she is still seeking additional procedures. Though the former 90 Day Fiancé star earns plenty of money to fund her passion for bodily transformation, some of her fans worry about her mental health.
Source: Larissa Lima