90 Day Fiancé: Groom Brandon Wedding Dress Shopping With Julia Dumbfounds Fans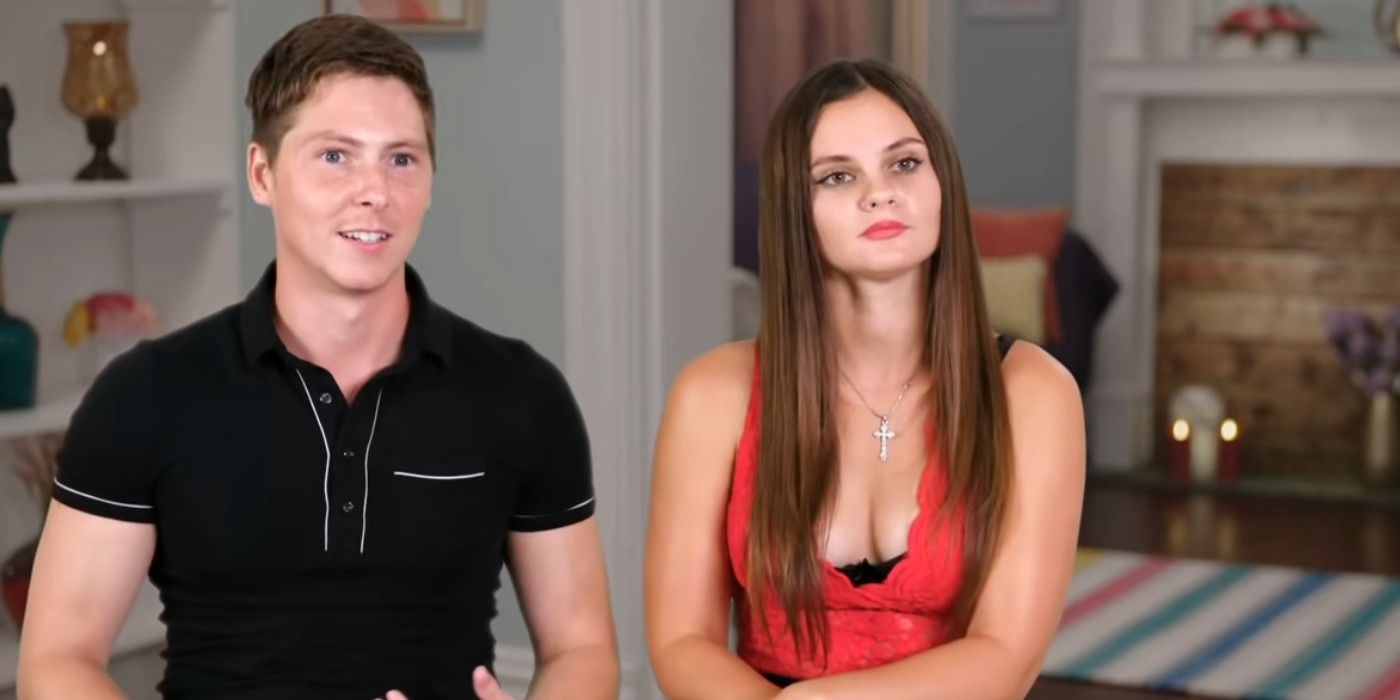 The latest episode of 90 Day Fiancé saw fan-favorite Julia Trubkina saying yes to the dress. The Russian beauty has become one of the most buzzed-about new cast members of season eight. However, fans have been torn over their sentiments for Julia's fiancé, Brandon Gibbs. While viewers were thrilled to see Julia in white, Brandon's lukewarm reaction to the dress shopping experience left fans displeased. The situation has raised the question of whether or not a groom should help his bride select her wedding dress.
While Brandon's parents, Betty and Ron, started as the season eight villains, the older couple has been making moves for redemption in later episodes. Ron was levelheaded when Brandon jumped the gun about telling his parents Julia might be pregnant, and Betty supported her future daughter-in-law when it came to picking out her wedding dress. However, Brandon was not happy Julia asked him to accompany her. The farm boy appeared bored and underwhelmed throughout the experience and upset his future bride by not offering enough opinions or excitement. Fans have since critiqued Brandon's response, as well as how he threw Julia under the bus with their pregnancy scare.
The official @90dayfiance Instagram account shared a clip from the last episode of Julia trying on dresses. "Would you bring your fiancé wedding dress shopping? Julia struggles to get feedback from Brandon," the caption reads. Hundreds of fans quickly weighed in with their opinions, with many believing Brandon should have acted more enthused during the process. "He cant even act excited???" one comment read, while another person added, "He's so boring, why's he there?" Another fan weighed in with a popular answer. "Ugh, I don't think it's a 'girls' thing, it's a 'look at how beautiful your future bridge looks!!' And how excited she is and this means a lot to her so he should put in some effort into showing he cares," the person wrote. Many people agreed with the assessment and voiced that Brandon was behaving extremely immaturely.
Other fans cited the importance of having feedback for such a big purchase. Fortunately, Julia was able to FaceTime her mother for support, but she surprisingly also received help from her future mother-in-law. Though Betty, who admitted she was jealous of the young dancer, hasn't made Julia's time in the US easy, fans now think she's turning things around. "I think his mother has been nicer to her lately. That's a good thing," one fan wrote. Since Brandon was not able to offer any valuable feedback to Julia, many felt he shouldn't have bothered coming with her and Betty. However, fans didn't believe that was because he was the groom, but rather because he didn't want to be helpful or excited for Julia. "What a drag," another fan added. "Brandon has no excitement for her. Should've left him sitting in the car."
While Brandon and Julia are believed to be married and still living together in America, fans have mixed opinions on the coupling. Many viewers are fond of Julia, who is considered headstrong and hilarious. However, Brandon has earned many criticisms for being immature. The 28-year-old is accused of being a perpetual mama's boy who doesn't know how to advocate for his fiancée. Brandon's dark-humored jokes also rub some fans the wrong way, as does his immaturity over using birth control methods. Hopefully, Brandon can grow up in future 90 Day Fiancé episodes.
90 Day Fiancé airs Sundays at 8 pm ET on TLC.
Source: @90dayfiance/Instagram