90 Day Fiancé: Fans Say Stephanie's Harris Is Nicole's Ex Azan In Disguise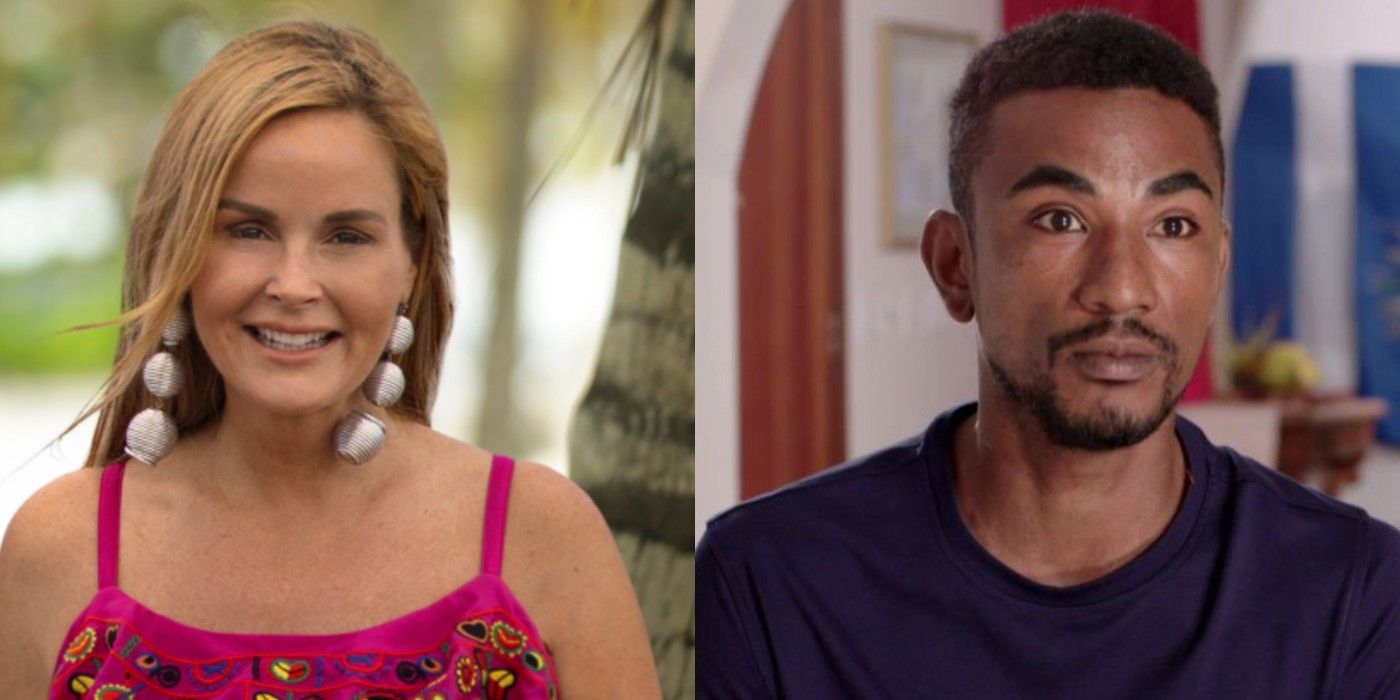 Currently, 90 Day Fiancé fans are witnessing the volatile relationship between Stephanie Davison and Ryan Carr on season eight. Since Stephanie's one-night stand with Harris is a crucial part of this season, the controversial cousin recently appeared on the Discovery+ show, 90 Day Bares All. But besides getting creeped out by Harris talking about Stephanie, fans also saw how much the Belize man resembled 90 Day Fiancé star and Nicole Nafziger's ex Azan Tefou.
Although Harris has yet to make his 90 Day Fiancé season eight debut, he shocked fans by showing up on 90 Day Bares All to tell his side of the Stephanie story. The Grand Rapids resident revealed the big secret about Harris in her introductory episode and justified it by claiming Ryan had been texting three women at once. While Stephanie added Harris was a comfort during her time of distress, the Belize man spoke about her hitting on him even when with Ryan. A third cousin of Ryan, Harris admitted Stephanie was a "nice built woman" that made him say "wow" the first time he laid eyes on her. But he further shocked Discovery+ subscribers by revealing Stephanie lifted Harris' shirt at a bar while Ryan went away to get alcohol to see what he was "hiding" underneath. Stephanie, 52, observed the younger man was "strong and thick" and not "scrawny like Ryan." Three days later, the 90 Day Fiancé star called him to her hotel room.
However, as Harris spilled the tea on Stephanie, some 90 Day Fiancé fans couldn't help but notice how much of a doppelganger he is for Morrocon man Azan Tefou. With his real name being Hasan M'Rouni, Azan has appeared on multiple 90 Day Fiancé seasons with ex-lover Nicole. The gym-lover is especially remembered for saying he's only "55% attracted to Nicole" and calling her "lazy" and "big, a little bit." But one controversy that rocked Nicole and Azan's relationship was him allegedly scamming her by taking $5,000 to build a false shop. With Ryan already being accused of using Stephanie for her expensive gifts and money, could Harris be looking for the same deal?
On a clip from the 90 Day Bares All episode with Harris and Shaun Robinson shared by @90DayTheMelanatedWay comments such as "Azan, is that you?" and "I swear I thought it was Azan (Nicole's guy)" are at the top. Furthermore, the page also posted a side-by-side comparison pic of Harris and 90 Day Fiancé star Azan, which also received reactions like, "I was sure this is Azan, little bigger" and "saw it from the first minute."
Meanwhile, rumors of 90 Day Fiancé celeb Azan already being married to his cousin in Morocco and having three children were also spread among fans. Perhaps, Harris will also end up having a sketchy past like Azan, which 90 Day Fiancé fans can get to see once he makes his grand debut with Stephanie in the second half of season 8.
90 Day Fiancé airs Sundays at 8pm EST on TLC.
Source: 90DayTheMelanatedWay