90 Day Fiancé: Deavan Denies Plastic Surgery After Unrecognizable Pic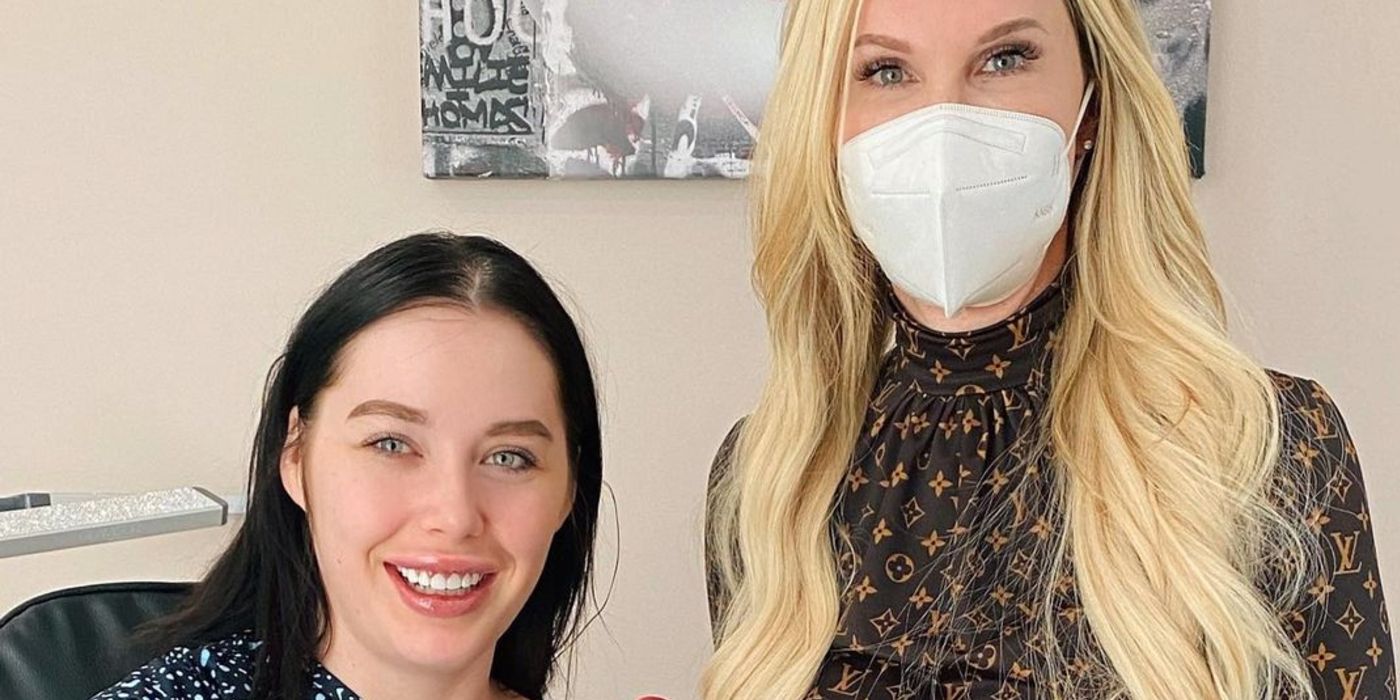 90 Day Fiancé: The Other Way star Deavan Clegg has made many headlines recently for her apparent lies. The ex-wife of Jihoon Lee has been accused of withholding their son Taeyang from his real father as her new boyfriend Topher Park has controversially been taking on the role of father on social media. She was also accused of lying about her miscarriage for a storyline and allegedly having an abortion to terminate the pregnancy. While Deavan has been busy with her scandals, fans are also calling out the 24-year-old for her altered appearance on social media. However, Deavan told a fan that she had never had plastic surgery.
Deavan has had a chaotic couple of weeks. In addition to the miscarriage drama and custody battle, the mother of two has alleged that her daughter was abused. However, she was accused of using the alleged abuse as clickbait for garnering more attention. Despite claiming she was taking a break from social media, Deavan has been sharing many images of herself to her Instagram account. The photos are often called out by fans for their bizarre appearance, as the mother appears drastically different on TV than she does in social media photos. Though Deavan eventually admitted that she uses photo editing, she has still not confirmed plastic surgery rumors.
The 24-year-old recently revealed her dyed blonde hair, which came as a change from her normally dark locks. Deavan admitted that her new bleached hair was completely fried, but that didn't stop her from quickly dying her hair again. She shared a photo of herself on Friday that once again featured her with dark hair. "Well the blonde didn't last long. What can I say 🤷 I just love my dark hair. Happy Friday ❤," she captioned the shot. A fan quickly tore into Deavan in a length comment. "You don't even look like the same person who was on 90 day fiance you had so much plastic surgery," the comment started. Deavan responded, "hi 👋 friendly reminder never had plastic surgery nor styled myself on the show. I did get lip fillers and I did it for me ❤️." You can view Deavan's photo below:
"As a hairdresser this hurts my soul," one fan wrote. "Oh no, need to cut your ends off now," another person chimed in. Some were also supportive of Deavan's makeover and ignored her hair damage. Other fans took to the comments to advocate for Jihoon. "Give your x the baby visits. This is absurd. How do you sleep," someone wrote in a popular comment. "I don't know where you are getting your information," Deavan fired back. Many fans have been siding with Jihoon, as they raise money on GoFundMe to help him take Deavan to court.
Fans have been overwhelmingly disapproving of the accusation that Deavan has withheld baby Taeyang. As she continues to be caught in lies and drama, it came as little surprise that Deavan was voted the most unlikeable franchise cast member. Even former friend and fellow notorious personality Leida Margaretha turned on Deavan after accusing her of insulting her son and being a liar. Despite her critics and frequently being mocked for her photo editing errors, Deavan has managed to cultivate a large following since appearing in the 90 Day Fiancé franchise.
90 Day Fiancé airs Sundays at 8 pm ET on TLC.
Source: Deavan Clegg/Instagram