90 Day Fiancé: Angela Deem Kisses Michael In IG Story for His Birthday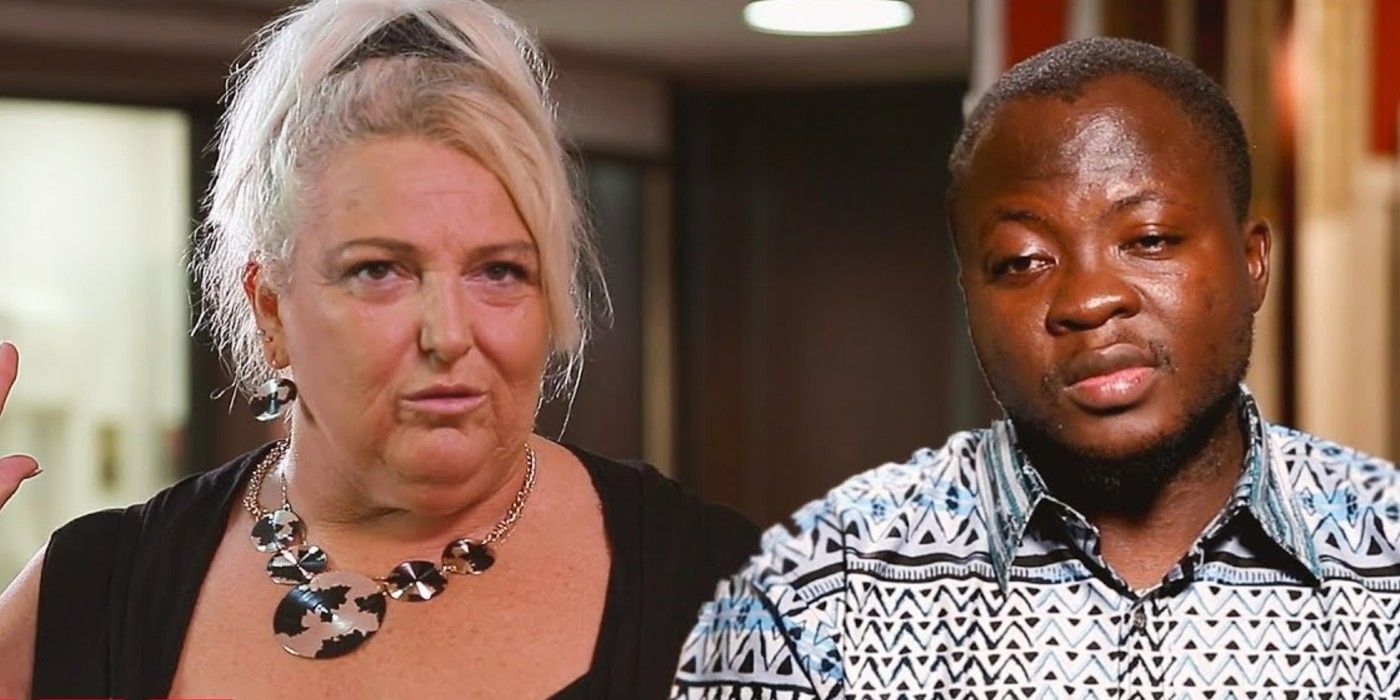 The tumultuous journey of Angela Deem and Michael Ilesanmi to their wedding aisle started off with 90 Day Fiancé: Before The 90 Days. As the duo continued getting in one heated argument after another, not many TLC fans thought that Michael and Angela would last. But just last month, Michael, who's been staying away from his Angie awaiting his visa, celebrated their one-year anniversary. However, 90 Day Fiancé and weight-loss champ Angela was spotted kissing birthday boy Michael aka her "Oko Mi" in an Instagram story. Does it mean Michael's finally arrived in America?
Out of all the 90 Day Fiancé seasons and various spinoffs it produced until now, Michael and Angela stand out as one of its iconic and unforgettable pairs. The grandmother of six, Angela, 54, met Michael, 32, online before she finally came face-to-face with him in Nigeria on the TLC show. The couple then started off a journey so toxic and troubled that fans couldn't imagine Angela and Michael together. Ridden with jealousy and drama, Angela had several breakups with Michael, sometimes over him cheating. Once, she thought he was stealing her money. But love did find a way in this reality TV mess with 90 Day Fiancé twosome Angela and Michael marrying in January 2020.
However, the last year, which became a turning point for Angela due to her weight loss surgery, also got fans worried about Michael still not having gotten his spousal visa. But the 90 Day Fiancé queen Angela surprised fans earlier today by sharing a story wishing her husband a happy birthday by lovingly calling him "Oko mi," which means "my darling" in Nigerian. The video posted by Georgia's meemaw shows Michael and her joyously singing, surrounded by friends, and her kissing him with love as the camera comes closer. But sadly, the video, as reposted by 90DayFiancé Fanatics2 has Angela in her makeover days, hinting at it being from when the 90 Day Fiancé celeb was in Lagos with Michael.
While Michael may not be in the U.S. yet, Angela does keep showing their love getting stronger despite the long-distance via regular video updates on her IG. Sometimes, fans see Angela's "sexy Nigerian baby" showing off his sleek dance moves to a Fleetwood Mac song, and at times, challenging his wife to a dance battle online. The 90 Day Fiancé couple was recently also a part of Discovery Plus spin-off 90 Day Love Games where Angela and Michael competed against Mursel and Anna Mistanoglu, Kyle and Noon Huckabee.
Sure enough, Michael and Angela's shenanigans took them into the semifinals, the results of which are eagerly awaited amongst the 90 Day Fiancé fan community. However, with Michael now a year older, will his Nigerian family pressurize him more into making babies with Angela? Or has Angela finally found someone she could tote an egg from? While it's not known which new 90 Day Fiancé spin-off Michael will return in, in all likeliness, it could be Angela's speculated solo one that could answer all these heavy questions.
Source: 90dayfiancefanatics2