100 Thieves Nadeshot Will Get Embarrassing Tattoo After Losing Twitter Bet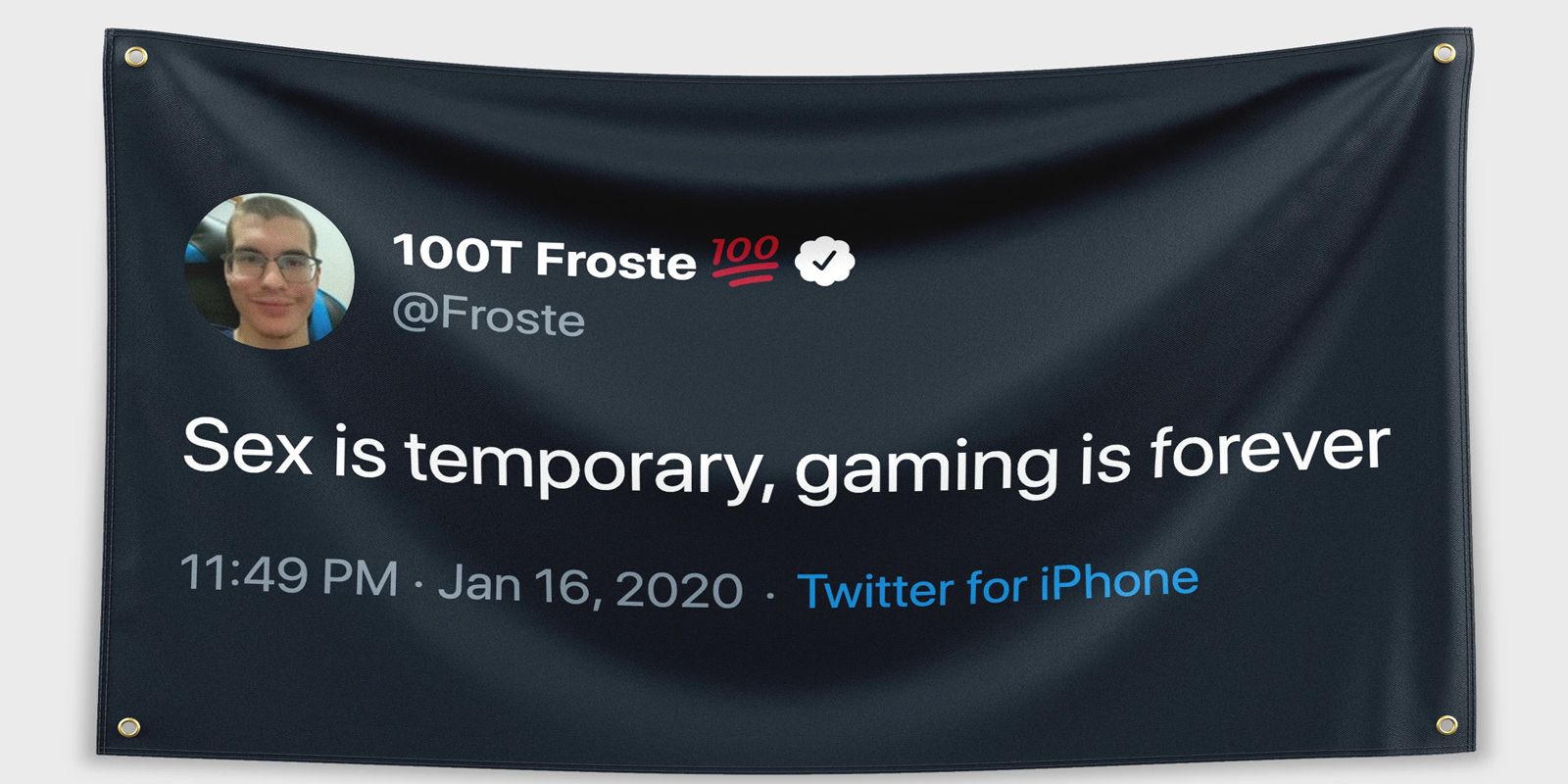 Matthew "Nadeshot" Haag and Erind "Froste" Puka may have made their names as teammates on Haag's Call of Duty esports organization, 100 Thieves, but a bet between the two is grabbing some major attention on Twitter, because Haag just lost and Puka has the receipts.
The two competitive Call of Duty players and content creators teamed up on the eSports lifestyle brand and gaming organization 100 Thieves, which was founded by Haag in 2017 after he retired from professional competitive Call of Duty. As active content creators on social media, each has amassed a pretty sizeable following, where even innocuous tweets are liked and retweeted thousands of times. One such tweet was one that Haag posted on February 25, which showed off his latest tattoo, and racked up over three thousand retweets on its own in the two days since it was posted.
Puka, in response to the new ink, jokingly asked how many retweets he would need to get in order to get Haag to tattoo the quote "Sex is temporary, but gaming is forever" somewhere on himself, a quote that has pretty major significance to Haag and 100 Thieves. Haag simply replied "100,000." And even though Haag confidently asserted that Puka didn't "have that kind of pull," despite his hefty followership, Haag has officially lost the bet after a mere two days, with Puka racking up over 262 thousand retweets at time of writing — and Puka is here to collect.
Gamers, assemble. pic.twitter.com/fQoAVpCcoV

— Froste 💯 (@Froste) February 26, 2021
Of course, there's also the entire possibility that Haag lost intentionally, since he has well over two million followers on Twitter, even after moving away from Call of Duty. Puka has over two hundred thousand followers, so reaching a hundred thousand retweets wouldn't exactly be considered a herculean task once the pair's followers were called to action. The proof of that is that Puka managed to hit the goal after a mere two days, and considering the quote is already commonly associated with Nadeshot and 100 Thieves, it's not like it would've been such an outlandish tattoo for Haag to get intentionally (or unintentionally). Even though Haag publicly insisted that Puka didn't have the clout to pull it off, it's neither streamer's first day on the internet, and being called to action on social media is basically what gamers live for.
Haag hasn't made any complaints about his potential new ink, and has followed up to his over two million followers claiming that if he gets a million retweets in 24 hours, his fanbase will get to choose where on his body (face excluded) the tattoo will go. So at the very least, he seems to be taking his loss on the chin – figuratively, if not literally.
Source: Froste