10 Times James Bond Made An Incredible Escape (Without Q-Branch Gadgets)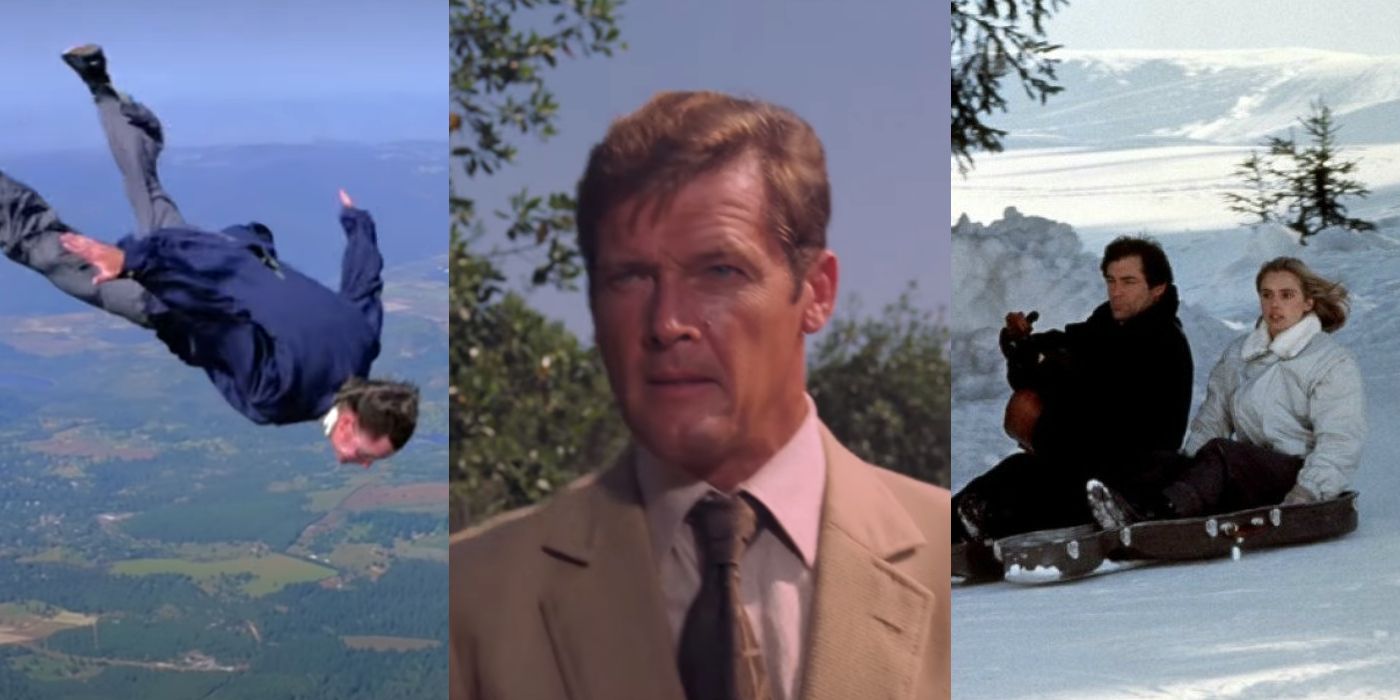 007 has been bailed out time and time again by Q-branch in the James Bond movies. The films have sometimes been criticized for their over-reliance on gadgets. But it would be a mistake to discredit one of cinema's greatest escape artists. There are plenty of examples of Bond making an escape without help from Q-branch.
Bond is one of the sharpest characters in cinema and he has quickly acted to avoid fatal consequences. Whether it's a split-second opportunity or a lengthy chase testing the limits of his stamina, 007 has survived thanks to ingenious solutions. These such escapes have delighted Bond fans for generations.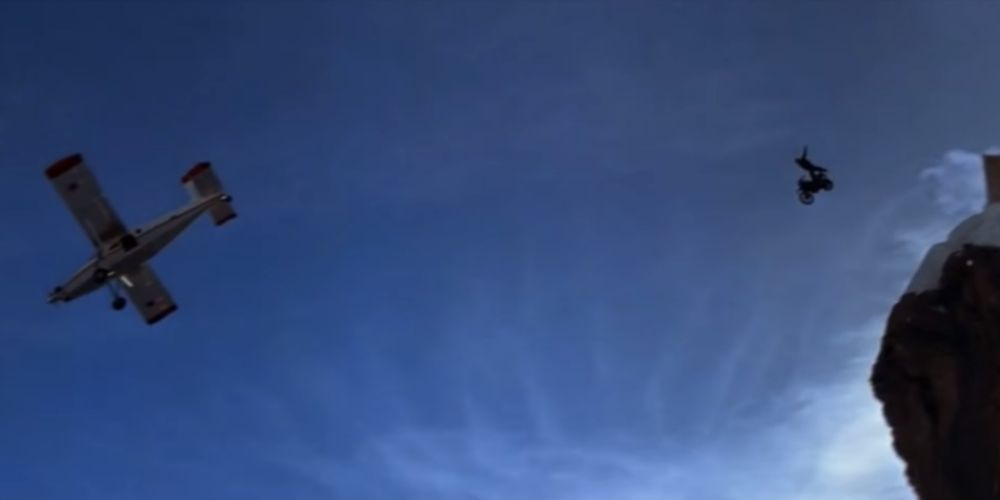 Goldeneye has one of the most terrific opening sequences of all the Bond movies. In the space of a few minutes, audiences are treated to a breathtaking bungee jump, Pierce Brosnan's introduction as Bond, and a rare look at a fellow 00 agent in action. But as the sequence goes on, Sean Bean's 006 is seemingly killed and 007 has to make a desperate escape.
A quick distraction allows Bond to get outside where a small airplane is heading down a runway. Seeing his chance, Bond gets after it on a motorcycle. The pilot is killed in the crossfire and the plane drops off the cliff at the end of the runway. Bond leaps after it and manages to catch up to the descent of the plane. At the last minute, he manages to pull the plane up and escape. It's an exciting moment, although not actually possible because the plane's propellor would cause it to dive faster than Bond.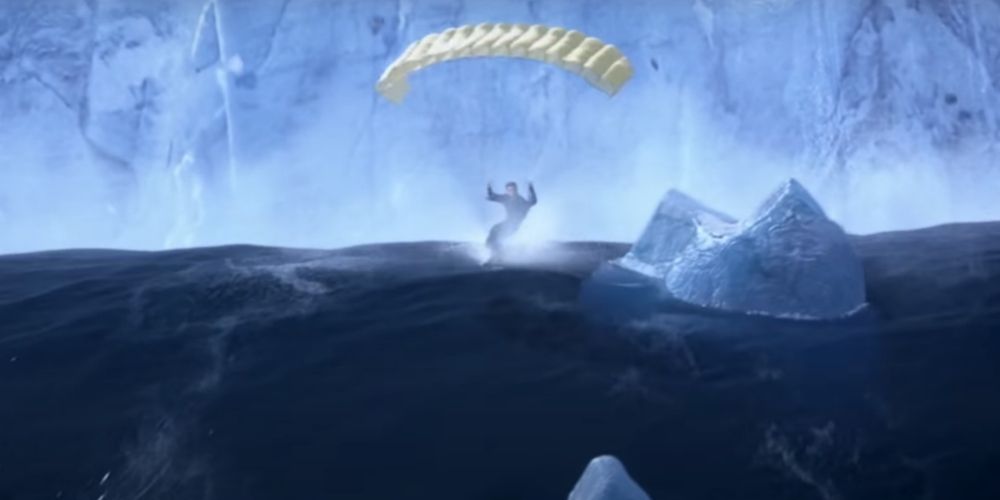 Fleeing from Gustav Graves's Icarus space laser, Bond raced across the Icelandic landscape in Graves' ice dragster in Die Another Day. Coming up to a cliff, Bond deployed a hook, leaving him and the dragster hanging perilously over a huge lake. It's here that Graves uses the Icarus to cut off a gigantic portion of the icy cliff.
With the entire cliff collapsing into the water Bond desperately struggles to tear off the dragster's parachute a piece from the hull. The collapsing cliff creates a gigantic tsunami and all seems lost until Bond reemerges on top of the wave thanks to his makeshift windsurfing equipment. The scene has been criticized for being far fetched and featuring shoddy CGI, but some fans appreciate it for its zaniness and the terrific piece of accompanying music by David Arnold.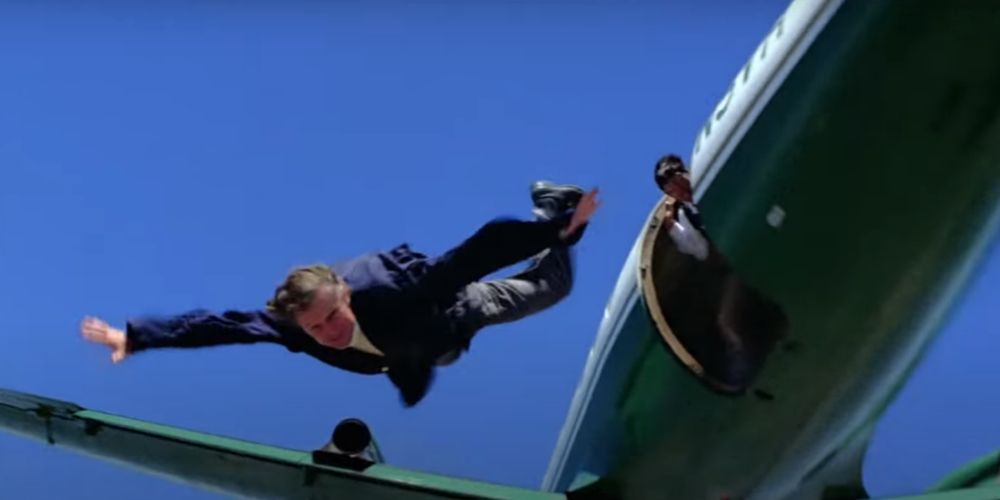 Moonraker found Roger Moore at the height of his popularity as 007. The follow-up to The Spy Who Loved Me had a lot to live up to, starting with the terrific pre-credits stunt of skiing off a cliff and deploying a Union Jack parachute.
Bond's introduction in Moonraker finds him pushed out of an airplane without a parachute by Jaws, Richard Kiel's returning henchmen character from the previous film. With no gadgets to save him, Bond had only one hope, to steal someone else's parachute. By adjusting his body to be more aerodynamic, 007 was able to catch up to the pilot and steel the chute after a desperate struggle. With Jaws hot on his heels, Bond deployed the chute in the nick of time.